By Dani White
Berthoud Recorder
In the mountain hamlet of Estes Park, a vast expanse of rocky, quintessential Colorado peaks provide the perfect setting for the historic Park Theatre that jumps out from the landscape in brilliant white and Art Deco splendor. This vintage landmark, one of the oldest operating movie theaters in the west, will once again play the perfect host and headquarters to the annual Estes Park Film Festival.
In the fourth year running the quaint and quirky, nonprofit film festival continues to build on its already incredible momentum with a distinctive 2009 agenda of films and events. Every year the EPFF, cultivates improvement with a fresh avalanche of diverse talent and unique selections of independent cinema. The modest festival has subsequently created a ripple effect of recognition worldwide. The array of over 40 scheduled films of the 2009 bill will include a range of local, national and international shorts, features and documentaries.
The local films chosen for the festival include the shorts; "Adobo" (Boulder), "Childhood Fears"(West Minister), "Kids in Kilts" (Denver), "Out of the Ashes: South Korea in the Park Chung Era"(Denver), "Shades of Grey"(Denver), "Story of Erica" (Ft. Collins) and "The Tao of Pez"(Wheat Ridge). There will be a Student Film Showcase on Thursday, Sept 17.
The official EPFF opening night party is Friday, Sept. 18 and will feature the yet to be released film "The Eclipse," a direct import from the Tribeca Film Festival in New York. There will also be an educational filmmaker panel discussion and question and answer opportunity with the filmmakers and other film enthusiasts on Saturday, Sept 19.
The EPFF Awards Gala and Closing Night, will feature "A Deal is a Deal," from the UK and offer a last chance to mingle with the indie film rabble on Sunday, Sept.20. This year's festival program will certainly do justice to the passion and dedication of filmmakers, industry professionals and festival attendees, attracted to the stunning Estes Park setting.
The official film schedule is posted and tickets are now on sale for the 2009 EPFF from Sept.17 to Sept. 20. For more information and pricing visit www.EstesParkFilm.com.
News Image: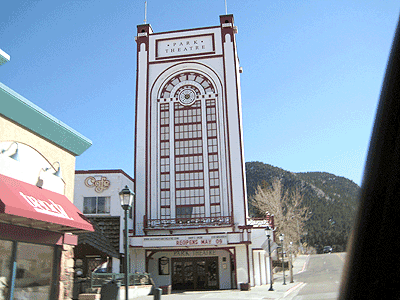 Long Description:
<p>The upcoming Estes Park Film Festival 2009 will show there is much more to local cinema than creepy old hotels and &ldquo;The Shining.&rdquo; (Photo by Dani White)</p>
Category Lead:
Category Lead Story
Home Lead:
Home Page Primary Featured Story

Print This Post