"The Mountain Pine Beetle's Unprecedented Epidemic," topic For first "CU @ The Longmont Public Library" Event
Longmont – On Thursday, September 23, 2010, Professor Jeff Mitton of the CU-Boulder Ecology and Evolutionary Biology Department will give an illustrated presentation about the devastating toll the small insects are taking on Colorado's forests, during the first installment of the "CU @ the Longmont Public Library" series.
The mountain pine beetle is in the midst of its largest epidemic in recorded history. The geographic infestation extends more than 1,000 miles, from New Mexico to the Yukon Territory. Mitton will discuss the life history of pine beetles and describe the struggle between attacking beetles and trees.
In addition to describing how tiny beetles can kill immense trees, he will discuss the role climate change has played in creating the epidemic. Small shifts in climate have expanded the geographic range in which pine beetles can thrive and extended their life cycle from one generation per year to two. Professor Mitton will also explain a surge in the populations of beetle predators, offering some hope for Colorado's forests.
"CU @ The Longmont Public Library" is sponsored by the CU-Boulder Office for University Outreach, the Longmont Public Library and Friends of the Longmont Public Library. Tickets or reservations are not required and the event is free and open to the public. 
All presentations begin at 7 p.m. at 409 4th Ave. Future installments of the series feature the following presentations:
Thursday, October 7, 2010 — "Arithmetic, Population and Energy, " by Professor Emeritus Al Bartlett from CU-Boulder's Department of Physics
Thursday, November 4, 2010 — "Weird, Wild Colorado: Life Forms that May Surprise You from Forest, Field, Tundra, and Bloodstream," from the University of Colorado Museum of Natural History, presented by Jennifer Frazer
Thursday, December 2, 2010 — "Comics as Literature: What happened in 1986 and Why it Matters, " by William Kuskin, chair of CU Boulder's Department of English
For more information about the series, contact the Longmont Public Library at 303-651-8471 or email outreach@colorado.edu.
For more information about pine beetles and how they are affecting our state, visit LearnMoreAboutClimate.colorado.edu, an online tool which features five videos that localize climate change by pairing interviews with leading scientists and everyday Coloradans to explain how climate change is affecting our state. The site also offers teacher-developed and –tested model lessons for middle and high school students, including one that focuses on the pine beetle epidemic. The lessons are available at LearnMoreAboutClimate.colorado.edu by clicking the "For Educators" tab.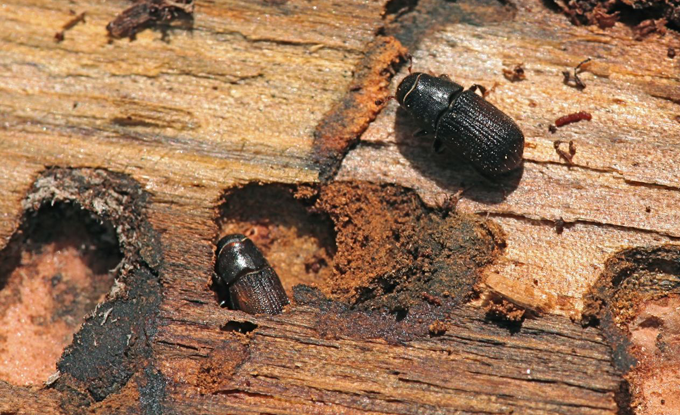 Print This Post