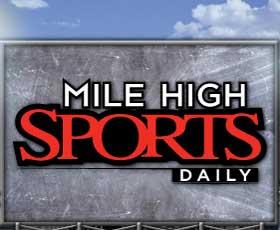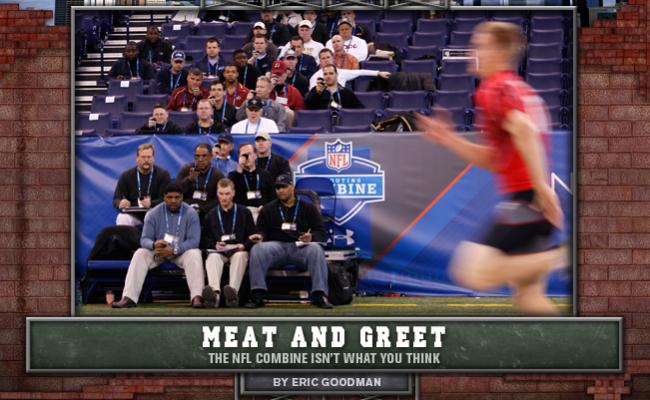 The NFL Combine, or better known to the media as the "Underwear Olympics," has become must-see television.
One of my radio partners, Peter Burns, loves this stuff. He spent hours in front of his TV watching guys run the 40, bench press and weave through the cone drill. Peter is single with no kids, clearly has more time than me and was hoping to gain some valuable information. But given the choice, I'd rather take my kids to see Alvin and the Chipmunks: Chipwrecked for a third time than watch the NFL's annual meat market.
Teams don't see it the same way as me, but it's fair to say that the reason Peter watches the Combine and the reason teams go to the event are for different reasons.
"The Combine saves teams money by getting 350 guys in one spot to give medical evaluations," said former Super Bowl winning general manager Charley Casserly. "The rest of the stuff – like interviews, measuring the players and the drills – are just part of the process in drafting a player. A good Combine wouldn't affect my decision on whether or not to draft a player, but it would pique my curiosity to watch more film or go to his pro day."
You would think interviews would be a big deal, but not as much as you'd think. Each team may speak with up to 60 players for 15 minutes, but good teams are smart in tempering their enthusiasm.
"I know they're schooled; I know they're taught to interview, but they can't hide their true personality no matter how hard they try," Steelers general manager Kevin Colbert told SiriusXM NFL Radio. "It's rare we'll eliminate a player after a 15-minute interview. However, there's going to be the occasional, 'Wow this guy is a slam dunk' or 'This guy has to go.'"
The most difficult part to evaluate is the drills. Smart players train for months, but this can be the equivalent of cramming for an exam. Just because a player aces a test doesn't mean he's a good student. Just because a player is a standout at the Combine doesn't mean he's a good football player.
Empirical research conducted by Brian D. Lyons, Brian J. Hoffman, John W. Michel and Kevin J. Williams in 2011 found that the 40-yard dash, vertical jump, 20-yard shuttle and three-cone drill have limited validity in predicting future NFL performance.
"You're going to want a 40 time, but playing speed is more important," said former NFL head coach Jim Fassel. "You get a guy with a 4.4, but are timed at a 4.3. No matter the 40 time, you can't evaluate instinct at the Combine."
Too many teams haven't trusted their own instincts by falling into the Combine trap.
Former Boston College linebacker Mike Mamula exposed the Philadelphia Eagles in 1995 for putting too much stock into the Combine. He was one of the first players to train specifically for the drills, performing each one hundreds of times in the months leading up to the Combine. This is a common practice today, but back then, his incredible performance was eye popping.
Mamula bench pressed 225 pounds 28 times, which were more than the top offensive tackle in the draft – Tony Boselli. His 4.58 40-yard dash time was considered extremely fast for his position. He scored a 49 out of 50 on the Wonderlic test, which is the second highest score ever recorded by an NFL player.
He surged up the draft board when the Eagles traded their 12th overall pick and a pair of second-round picks to Tampa Bay for the seventh overall pick and a third-round pick. Mamula was out of the league after six decent seasons due to injuries, while the Buccaneers took Warren Sapp with the 12th selection and then parlayed their second-round picks for Derrick Brooks.
Mamula, who was dubbed the "Workout Warrior," is the Combine's poster child, but isn't the only player to benefit from a stellar performance to surge in the draft. Courtney Brown, Adam Archuleta, Johnathan Sullivan, Matt Jones, Vernon Gohlston, Darius Heyward-Bey and Taylor Mays rocketed into the national spotlight in Indianapolis and watched their NFL careers crash with unfulfilled expectations.
These guys have become a cautionary tale for every team around the league who trust their stopwatch and measureables over film.
The Combine is great entertainment for fans who can't get enough of the NFL, but for those who think they're getting a leg up around the watercooler are only fooling themselves. Teams don't learn as much as you'd think and neither does the guy watching at home. Sorry, Peter.
Eric Goodman hosts "The Mile High Club with Eric, Kiz and Burns" from 7a-9a Monday through Friday on Mile High Sports Radio AM 1510 | FM 93.7. You can also follow Eric Goodman on Twitter @ericgoodman.
***
Want more Mile High Sports? Check out Chris Dolge's blog at milehighsports.com. Today, the Outsider examines the double standard of the media wars.

Print This Post