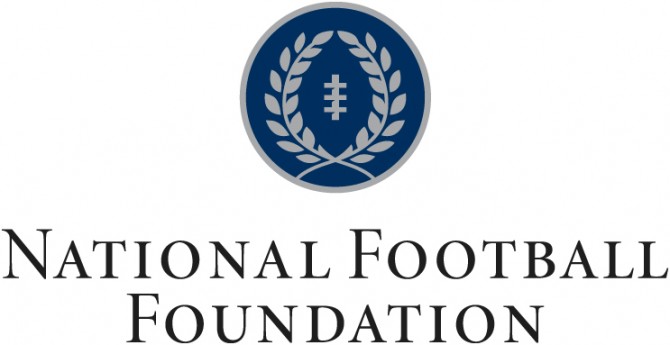 This Week in College Football History: 
Dec. 12 – Dec. 18
As part of an ongoing series throughout the fall, The National Football Foundation & College Hall of Fame posts This Week in College Football History, which takes a look back at some of college football's landmark moments over the last 143 years.
 
FEATURED MOMENT:

December 15, 1962 – In the second and final Gotham Bowl at Yankee Stadium in Bronx, N.Y., College Football Hall of Fame coach Bob Devaney led Nebraska to a 36-34 win over College Football Hall of Fame coach Andy Gustafson and Miami (Fla.). In frigid temperatures, the squads played to a 20-20 halftime draw capped by a six-yard Dennis Claridge touchdown pass to Mike Eger shortly before the final horn. Miami claimed its third lead of the day early in the third quarter, but the Cornhuskers responded with two touchdowns and a pair of two-point conversions to take a decisive 36-27 lead. Halfback Nick Rider brought Miami to within two, and quarterback George Mira (321 passing yards, two touchdowns) found end Bill Sparks wide open on the goal line for a potential go-ahead score, but Sparks slipped on the icy turf, ending Miami's comeback hopes. The Gotham Bowl marked the first of six postseason meetings between the two intersectional powers, with one or both teams ranked among the top two teams in the country leading into all five matchups.
CLICK HERE TO SEE VIDEO OF THIS GAME.
OTHER NOTABLE DATES:
December 12, 1987 – Eastern Michigan defeated San Jose State 30-27 in the seventh California Bowl in Fresno, Calif. Tailback Gary Patton led the Eagles with 130 rushing yards and a touchdown, but quarterback Craig Ostrander's 32-yard touchdown pass to Ron Adams with 3:59 to play provided the winning margin. The win capped a special season for Eastern Michigan as the Eagles claimed the only MAC championship and bowl victory in school history.
December 13, 1958 – In the first and only edition of the Bluegrass Bowl in Louisville, Ky., No. 19 Oklahoma State topped Florida State, 15-6. Cowboys running back Forrest Campbell earned Most Valuable Player honors with 130 rushing yards on 26 carries while backfield-mate Duane Wood added 81 rushing yards and two scores on 17 attempts. Oklahoma State's defense limited the Seminoles to 100 rushing yards and intercepted four passes on the day. The win was Oklahoma State's first bowl triumph since the 1945 Cotton Bowl, when the school was known as Oklahoma A&M.
December 14, 1968 – College Football Hall of Fame coach Johnny Vaught guided Ole Miss to a 34-17 win over Virginia Tech in the Liberty Bowl in Memphis, Tenn. The game originally appeared to be a blowout in favor of the Hokies after they built a 17-0 edge after one quarter. Future College Football Hall of Famer and NFF Chairman Archie Manning rallied the Rebels, completing touchdown passes of 21 and 23 yards to pull Ole Miss within 17-14 at halftime. Running back Steve Hindman put the Rebels on top for good with a 79-yard scoring sprint to open second half, and Bob Bailey returned an interception 70 yards for a touchdown in the fourth quarter to put the game away for good. Hindman earned Most Valuable Player honors with 121 rushing yards on 15 carries, and the Ole Miss defense allowed Virginia Tech into Rebels territory just once over the final three frames.

December 16, 1978 – Arizona State defeated Rutgers 34-18 in the first Garden State Bowl at Giants Stadium in East Rutherford, N.J. The Sun Devils, who trailed 10-0 after one quarter, were led by quarterback Mark Malone's 268 passing yards and three touchdowns to go with 46 rushing yards and two additional scores. The Garden State Bowl lasted four seasons and was the last postseason bowl game in the greater New York City area until the New Era Pinstripe Bowl opened in 2010.
December 17, 1993 – Utah State earned the first bowl victory in school history with a 42-33 triumph over Ball State in the Las Vegas Bowl. Quarterback Anthony Calvillo led the Aggies by connecting on 25-of-29 passes for 286 yards and three touchdowns while adding eight carries for 50 yards. The Aggies built a 35-10 third-quarter lead before Ball State mounted a late rally, but Donald Toomer's 32-yard interception return for a touchdown sealed the win.
December 18, 2003 – No. 14 Miami (Ohio) defeated Louisville 49-28 in the GMAC Bowl in Mobile, Ala. The RedHawks jumped to a 21-0 first-quarter lead, but Louisville climbed to within 35-28 in the third quarter behind three touchdown catches from wide receiver J.R. Russell. Matt Pusateri's 35-yard interception return for a touchdown with 7:57 remaining put the game away for Miami. Quarterback Ben Roethlisberger earned Most Valuable Player accolades by completing 21-of-33 passes for 376 yards and four touchdowns. The win finished a 13-1 season for the RedHawks in which they claimed the MAC title and were ranked 10th in the final AP poll.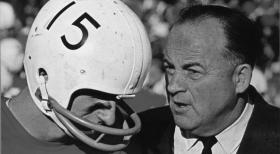 College Football Hall of Fame coach Bob Devaney led
Nebraska to its first bowl win in the 1962 Gotham Bowl.
 This report was researched and written by NFF Communications Assistant Zach Barnett. Click here to read this story online.
ABOUT THE NATIONAL FOOTBALL FOUNDATION AND COLLEGE HALL OF FAME: Founded in 1947 with early leadership from General Douglas MacArthur, legendary Army coach Earl "Red" Blaik and immortal journalist Grantland Rice, The National Football Foundation & College Hall of Fame is a non-profit educational organization that runs programs designed to use the power of amateur football in developing scholarship, citizenship and athletic achievement in young people. With 121 chapters and 12,000 members nationwide, NFF programs include the College Football Hall of Fame, the NFF Scholar-Athlete Awards, presented by Fidelity Investments, Play It Smart, the NFF Hampshire Honor Society, the NFF National Scholar-Athlete Alumni Association, and scholarships of more than $1.3 million for college and high school scholar-athletes. The NFF presents the MacArthur Bowl, the William V. Campbell Trophy, endowed by HealthSouth, and releases the Bowl Championship Series (BCS) Standings. For more information, please visit www.footballfoundation.org.

Print This Post