This Week in College Football History:
Nov. 15 – Nov. 21
As part of an ongoing series throughout the fall, The National Football Foundation & College Hall of Fame posts This Week in College Football History, which takes a look back at some of college football's landmark moments over the last 141 years.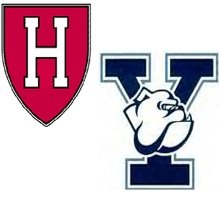 FEATURED MOMENT:
November 19, 1983– Historic rivals Harvard and Yale met for the 100th time in New Haven, Conn. Harvard topped the Elis, 16-7, to clinch a share of the Ivy League title. Wingback Steve Ernest led the way for the Crimson, rushing 16 times for 113 yards and a game-winning two-yard touchdown run. The squads will meet on Nov. 20 for the 126th time.
OTHER NOTABLE DATES:
November 15, 1941– College Football Hall of Fame head coach Eddie Robinson earned his first victory as he led Grambling to a 37-6 win over Tillotson. Robinson would eventually direct the Tigers to 408 wins in 55 years as the institution.
November 16, 1996– In Seattle, Huskies running back Corey Dillon set an NCAA record for total yards in one quarter when he gained 222 rushing yards and 83 receiving yards as No. 15 Washington faced San Jose State. Dillon's 222 rushing yards were also an NCAA record for rushing yards in one quarter. Washington topped the Spartans, 53-10.
November 17, 1956– College Football Hall of Fame running back Jim Brown posted an NCAA-record 43 points as No. 9 Syracuse raced past Colgate 61-7 in Syracuse, N.Y. The Hall of Famer recorded six rushing touchdowns, which still stands as a school record. Brown's record lasted until 1990 and stands third all-time today.
November 18, 1961– Led by future College Football Hall of Famer Merlin Olsen, Utah State closed the best season in school history with a 17-6 win over intrastate rival Utah in Salt Lake City. The win moved Utah State to 9-0-1 for the season, completing the Aggies' only undefeated regular season since 1936.
November 20, 1999– TCU's LaDanian Tomlinson set the NCAA single-game rushing record when he carried 43 times for 406 yards against UTEP. Tomlinson's 287 second-half yards also tied an NCAA record for rushing yards in one half. The Horned Frogs defeated UTEP 52-24 in Fort Worth.
November 21, 1970– No. 2 Notre Dame and College Football Hall of Fame coach Ara Parseghian survived a 3-0 slugfest with No. 7 LSU in South Bend, Ind. The underdog Bayou Bengals shut down a prolific Notre Dame offense by sacking eventual College Football Hall of Fame quarterback Joe Theismann six times and holding the Fighting Irish to 227 yards of total offense, less than half its average output. LSU, however, could not capitalize on its defensive performance, missing one field goal and having another try blocked. With less than three minutes remaining in the contest, Notre Dame ended the deadlock when Scott Hempel converted the game-winning 24-yard field goal.
About The National Football Foundation & College Hall of Fame Founded in 1947 with early leadership from General Douglas MacArthur, legendary Army coach Earl "Red" Blaik and immortal journalist Grantland Rice, The National Football Foundation & College Hall of Fame, a non-profit educational organization, runs programs designed to use the power of amateur football in developing scholarship, citizenship and athletic achievement in young people. With 121 chapters and 12,000 members nationwide, NFF programs include the College Football Hall of Fame, Play It Smart, the NFF Hampshire Honor Society, the NFF National Scholar-Athlete Alumni Association, the NFF Gridiron Clubs of New York City, Dallas, and Los Angeles, and annual scholarships of more than $1.3 million for college and high school scholar-athletes. The NFF presents the MacArthur Bowl, the Campbell Trophy, endowed by HealthSouth, and releases the Bowl Championship Series (BCS) Standings.

Print This Post