Nov. 22 – Nov. 28
As part of an ongoing series throughout the fall, The National Football Foundation & College Hall of Fame posts This Week in College Football History, which takes a look back at some of college football's landmark moments over the last 141 years.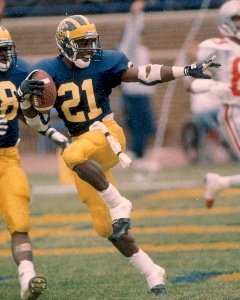 FEATURED MOMENT:
November 23, 1991- In Ann Arbor, 2010 College Football Hall of Fame inductee Desmond Howard took back a punt against rival No. 18 Ohio State for a touchdown, celebrating with his famous "Heisman Pose" en route to No. 3 Michigan's biggest win over the Buckeyes in almost 50 years. The Wolverines triumphed over Ohio State and College Football Hall of Fame coach John Cooper 31-3.
OTHER NOTABLE DATES:
November 22, 1958– Pacific succeeded on an NCAA-record seven two-point conversions in nine attempts against San Diego State. Pacific won the game 68-17 in San Diego.
November 24, 1979- For the third time in the decade, College Football Hall of Fame coach Tom Osborne's No. 3 Nebraska and College Football Hall of Fame coach Barry Switzer's No. 8 Oklahoma faced off with undefeated conference records and the Big 8 crown on the line. Oklahoma took a commanding 17-7 lead behind a 94-yard drive keyed by a 71-yard rush by College Football Hall of Famer Billy Sims, who totaled 247 rushing yards on the day. Oklahoma would take the game 17-14 in Norman, clinching the Sooners' fourth outright conference title in seven years.
November 25, 1961- Rutgers completed its first undefeated season since 1876 with a 32-19 win over Columbia in Piscataway, N.J. Led by Campbell Trophy namesake Bill Campbell, the 1961 Ivy League co-champions built a 19-7 advantage through three quarters. The Scarlet Knights responded by scoring four times in the fourth quarter to seal the victory. The win was not enough, however, to earn Rutgers its first Lambert Trophy as the best team in the East, which was awarded to Penn State.
November 26, 1955– No. 19 Vanderbilt was just 15 minutes away from a certain Sugar Bowl berth when they led Tennessee 14-7 entering the fourth quarter in Knoxville. College Football Hall of Fame running back Johnny Majors equaled the score by throwing a 10-yard score to end Buddy Cruze to beat the Commodores 20-14. The Volunteers clinched the upset when back-up tailback Al Carter threw a 43-yard touchdown to Bill Anderson. No. 9 Georgia Tech, who defeated Georgia 21-3 the same day, earned the Sugar Bowl bid while Vanderbilt would face fellow SEC member Auburn in the Gator Bowl.
November 27, 1982- In Tucson, Arizona upset intrastate nemesis No. 6 Arizona State The Wildcats built a 19-0 lead behind a 92-yard touchdown catch by tailback Brian Holland, a 65-yard scoring catch-and-run by receiver Brad Anderson, a blocked punt that resulted in a field goal and a safety gained by the kickoff coverage team. Sun Devils quarterback Todd Hons rallied to throw for 296 yards but it was not enough, as Arizona State's loss allowed idle UCLA to claim the Pac-10's Rose Bowl berth.
November 28, 2008- Andy Schmitt of Eastern Michigan completed a historic week when he connected on an NCAA single-game record 58 of 80 pass attempts against Central Michigan. Schmitt lead the Eagles past the Chippewas 56-52 in Ypsilanti, Mich. Six days earlier, Schmitt became the first player in college football history to toss 76 passes in a single game without throwing an interception when he completed 50 attempts versus Temple. Schmitt's 108 combined completions are the most over a two-game span in college football history.
This report was compiled and edited by NFF Communications Assistant Zach Barnett.
About The National Football Foundation & College Hall of Fame Founded in 1947 with early leadership from General Douglas MacArthur, legendary Army coach Earl "Red" Blaik and immortal journalist Grantland Rice, The National Football Foundation & College Hall of Fame, a non-profit educational organization, runs programs designed to use the power of amateur football in developing scholarship, citizenship and athletic achievement in young people. With 121 chapters and 12,000 members nationwide, NFF programs include the College Football Hall of Fame, Play It Smart, the NFF Hampshire Honor Society, the NFF National Scholar-Athlete Alumni Association, the NFF Gridiron Clubs of New York City, Dallas, and Los Angeles, and annual scholarships of more than $1.3 million for college and high school scholar-athletes. The NFF presents the MacArthur Bowl, the Campbell Trophy, endowed by HealthSouth, and releases the Bowl Championship Series (BCS) Standings.

Print This Post