Jan. 3 – Jan. 9
As part of an ongoing series throughout the fall, The National Football Foundation & College Hall of Fame posts This Week in College Football History, which takes a look back at some of college football's landmark moments over the last 141 years.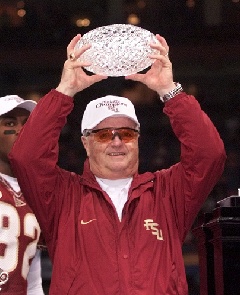 FEATURED MOMENT:
January 4, 2000– College Football Hall of Fame coach Bobby Bowden led Florida State to its second national title in the Sugar Bowl in New Orleans as the No. 1 Seminoles topped No. 2 Virginia Tech 46-29. NFF National Scholar-Athlete and Heisman Trophy winner Chris Weinke threw for 329 yards and four touchdowns while wide receiver Peter Warrick caught six passes for 163 yards and two scores and added a 59-yard punt return for a touchdown. Florida State became the first team in college football history to spend an entire season ranked No. 1 by both major polls.
OTHER NOTABLE DATES:
January 3, 2002– No. 1 Miami (Fla.) beat No. 2 Nebraska 37-14 in the Rose Bowl in Pasadena, Calif. to win the school's fifth national championship. Hurricanes quarterback Ken Dorsey threw for 362 yards and three touchdowns, while 2001 William V. Campbell Trophy winner Joaquin Gonzalez paved the way for tailback Clinton Portis' 104 rushing yards and one touchdown on 20 carries. Gonzalez became the third player in the 21-year history of the award to take home the Campbell Trophy and the national championship in the same season.
January 5, 2009– No. 3 Texas topped No. 10 Ohio State 24-21 with a last-minute touchdown in the Fiesta Bowl in Glendale, Ariz. The underdog Buckeyes controlled the first half, marginalizing a Texas offense that averaged nearly 44 points per game, and claimed a 6-3 lead at the break. Texas quarterback Colt McCoy (41 of 58 passing for 414 yards) rushed and threw for scores to put Texas on top 17-6 entering the fourth quarter. Ohio State immediately rallied, scoring 15 straight points to take a 21-17 lead. However, with 16 seconds left, McCoy found Quan Cosby (14 catches for 171 yards) for his second score of the day to provide the winning margin.
January 6, 1979– The second largest crowd at the time (72,000) in East-West Shrine Game's storied history watched East dominate the West 56-17 in Palo Alto, Calif. The Shrine Game is the second-oldest postseason football game after the Rose Bowl.
January 7, 2008– No. 2 LSU beat No. 1 Ohio State 38-24 in the BCS National Championship Game in New Orleans. Ohio State built a 10-0 first-quarter lead behind a 65-yard touchdown run by tailback Chris Wells. LSU, however, ripped off 31 consecutive points to take control of the game. Tigers quarterback Matt Flynn completed 19 of 27 passes for 174 yards and four touchdowns to lead the way. The victory allowed LSU to become the first program to win two BCS national titles.
January 8, 2007– 2009 William V. Campbell Trophy winner Tim Tebow began an NCAA record streak of 14 consecutive games with at least one touchdown by rushing and passing. Tebow rushed 10 times for 39 yards and a touchdown, while completing his only pass for a one-yard touchdown, as No. 2 Florida beat No. 1 Ohio State 41-14 in the BCS National Championship Game in Glendale, Ariz. Tebow completed the streak by rushing and throwing for a touchdown in all 13 games of the 2007 season, in which he claimed the Heisman Trophy.
January 9, 1965– The North and South played to the first tie in the 16-year history of the Senior Bowl before a capacity crowd over greater than 40,000 in Mobile, Ala. The 7-7 tie featured College Football Hall of Famers Steve DeLong of Tennessee (who was named MVP) and Tucker Frederickson of Auburn. Trailing 7-0 in the third quarter, South quarterback Joe Namath hit "Bullet" Bob Hayes with a 53-yard touchdown pass to even the score. The South squad would miss two potential game-winning field goal attempts in the fourth quarter, allowing for the contest to remain a tie.
About The National Football Foundation & College Hall of Fame Founded in 1947 with early leadership from General Douglas MacArthur, legendary Army coach Earl "Red" Blaik and immortal journalist Grantland Rice, The National Football Foundation & College Hall of Fame, a non-profit educational organization, runs programs designed to use the power of amateur football in developing scholarship, citizenship and athletic achievement in young people. With 121 chapters and 12,000 members nationwide, NFF programs include the College Football Hall of Fame, Play It Smart, the NFF Hampshire Honor Society, the NFF National Scholar-Athlete Alumni Association, the NFF Gridiron Clubs of New York City, Dallas, and Los Angeles, and annual scholarships of more than $1.3 million for college and high school scholar-athletes. The NFF presents the MacArthur Bowl, the Campbell Trophy, endowed by HealthSouth, and releases the Bowl Championship Series (BCS) Standings.

Print This Post