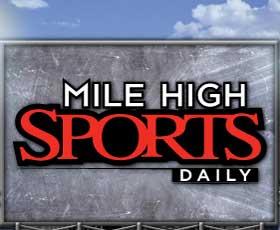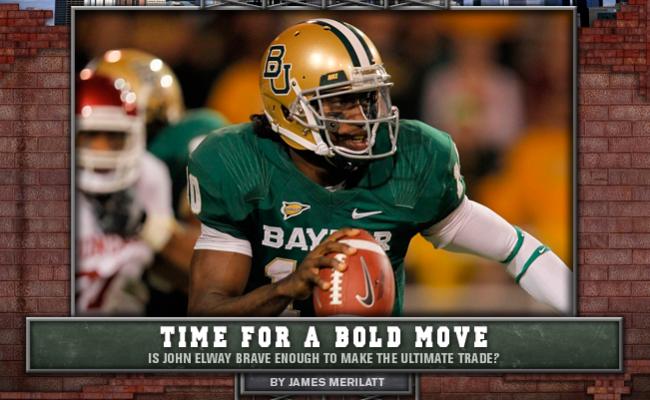 John Elway was hired to put his stamp on the Broncos. He was brought in as team's executive vice president of football operations to make the tough decisions that are necessary to build a winner. No. 7 has an office at Dove Valley because he's seen as someone bold enough to do what is right, not just what is popular.
If those things are true, then Elway needs to do one thing before the NFL Draft: Trade Tim Tebow.
The Hall of Fame quarterback doesn't see No. 15 as the Broncos long-term answer under center, so he needs to cut the cord and move the team in another direction. And there's no time like the present.
Elway should send Tebow and the 25th-overall pick in April to Jacksonville in exchange for the No. 7 selection in the draft. Then, he should package that pick and other assets (a combination of next year's No. 1 pick, second-round picks in 2012 and 2013, and/or a rising star like Von Miller) and ship them to St. Louis for the choice that will turn out to be either Andrew Luck or Robert Griffin III – two guys Elway scouted in person this season and is said to be drooling over.
It'd be a bold series of moves that would land Elway and the Broncos just what they need: A franchise quarterback. It's a two-part trade that would set the team on the right course for the next 10 years. And it's doable.
For a trade to materialize, it has to be perceived as a win-win for both sides. If one party isn't going to improve their situation, there's no impetus for them to deal. A Tebow-to-Jacksonville transaction fits the bill.
On the Broncos side, the benefits are two-fold.
One, the franchise cashes in its most valuable chip when it is at its peak value. Tebow will never be hotter than he is right now. Even if he gains more on-field success, that will be offset by the inevitable burnout factor, as fans tire of hearing his story. And if he performs like most experts still predict he will, his stock will plummet like Enron. So now is the time to get maximum value.
Two, the team rids itself of a major headache. Elway and John Fox can't possibly enjoy having to constantly answer questions about Tebow. And they have to be dreading the day when they finally have to make the decision to part ways, something they eventually see coming. Trading him now is a "rip off the Band-Aid" move; it gets a painful step out of the way, so everyone involved can simply move on.
On the Jaguars side, the benefit is simple: It's all about economics.
The notion that Tebow is a "cash cow" for the Broncos is misguided. On nearly every front, Denver's revenue streams are as close to fixed as they could be in any business.
Yes, he's wildly popular, evidenced by the fact that his jersey was among the NFL's top sellers last season. Yes, he brings a lot of attention to the team, something that should land Denver on national television multiple times in 2012. And yes he gets the fan base excited, a concept that had become foreign in the Rocky Mountain region for the better part of the past decade. But none of those things lead to significant dollars in the team's coffers.
For every jersey sold, NFL teams only get a 12 percent cut of the purchase price. That is then equally divided amongst the league's 32 clubs. So on a $100 item, the Broncos are only pocketing about $0.38 – the same amount they make any time someone buys an Aaron Rodgers, Troy Polamalu or Drew Brees jersey.
On the TV side of things, the Broncos take is set in stone. They get their equal share of the roughly $6 billion per year that the NFL generates in television revenue, netting nearly $200 million each season. It doesn't matter if the Broncos are the national game every week or if they repeatedly draw Ian Eagle as their announcer; the number doesn't change.
And in terms of ticket sales, there isn't much room for the Broncos to grow. They've been sold out for every home game since 1969. Sure, there are a few premium seats that may move with Tebow under center – filling holes in the club and suite levels – but it's only a few hundred tickets; that's not a needle mover. Denver maximizes their revenue at the turnstiles every year, with or without Tebow, and they have for more than four decades.
But in Jacksonville, having No. 15 on the roster would provide a major windfall. The team's home stadium – EverBank Field – has a capacity of nearly 76,000. But every Sunday, more than 9,700 of those seats are covered with a tarp; they aren't included in the sellable pool of tickets in order to help the Jaguars avoid television blackouts due to unsold ducats. With Tebow on the roster, those seats – not to mention the additional 8,000 that can be added for Super Bowls and college bowl games – would instantly sell. At an average cost of $455 per season ticket, that's $4,413,500 into the team's pocket in season ticket sales right out of the gate.
As for the second portion of the two-part trade, that's a win-win, as well. The Broncos get their quarterback of the future, while the Rams parlay a player that they can't use (they already have Sam Bradford as their franchise quarterback) into a bounty of picks and/or players.
The Broncos need to do something bold. Nothing would qualify quite like trading Tim Tebow – a move that should be made, but will be wildly unpopular.
Is John Elway the man to do it? Here's hoping so. If not, why did he ever come in off the golf course?

Print This Post