By Shari Phiel
Berthoud Recorder
For one local family, the category F1 tornado that damaged Southland Mall and an apartment complex in Aurora on June 7 hit just a little too close to home.

Josie (age 10) and Nathan (age 12) Billado were having lunch with their grandparents and uncle at Red Brick Pizza located at the mall when the tornado struck. Patrons in the restaurant were quickly moved into the restrooms for safety where they stayed for some time.

"They got them out pretty quick after [the tornado] left because of the gas leak," said their mother, Robin Billado. "Most of the buildings on either side of the Red Brick were destroyed," she added, thankful her children and other family members came through relatively unscathed.
Just how lucky they were became more apparent as they left the building as saw the damage first hand. "Right where they were sitting, the inside ceiling had fallen," she added.
It will be some time before the family forgets the experience, which is especially true for Josie. "When there's a thunderstorm, my daughter gets really nervous. She was shaking like a leaf last night," said their mom of Sunday's recent storms.

According to a report from the National Weather Service, the Aurora tornado had wind speeds of approximately 100 mph. The NWS also confirmed the tornado first touched down south of Buckley Air Force Base and then traveled several miles over open land before striking the mall.
Severe weather continues to assail the Front Range region and is likely to continue off and on for some time. Additional information about weather alerts, along with safety tips, is available online at www.Weather.gov.
Good to Know
The Enhanced Fujita or F-Scale is used by meteorologists to rate the severity of a tornado based on damage caused and wind speeds. Aerial surveys, media reports, ground patterns of damage, as well as eyewitness reports are used to determine the category. F1 is "moderate damage," with wind speeds from 73 to 112 mph
---
Recent Storms Fifth Highest in Damage Costs
Recorder Staff
According to the Rocky Mountain Insurance Association, early estimates of anticipated costs from damage caused by the series of storms that moved across Colorado between June 7 and June 15 will likely top $161.1 million.
Approximately 34,000 claims have been filed with 21,000 coming from auto claims and another 13,000 coming from homeowner claims. The RMIIA report issued on June 16, said, "most of the damage stems from the widespread hail — battering cars and homes."
The majority of the damage was incurred during hail storms in Aurora, Centennial and Parker.
Damage from the storms hit fifth place on the list of costliest storms in the state, with the costliest occurring in 1990 when storms caused approximately $625 million in damages, said the RMIIA.
News Image: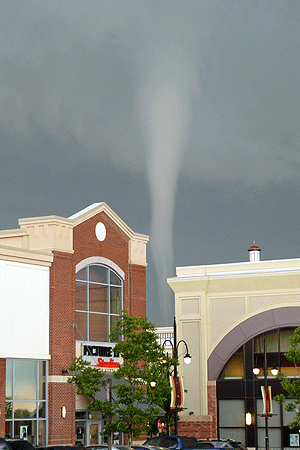 News Image: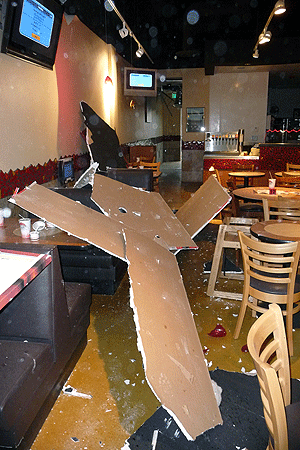 Long Description:
<p>A funnel cloud in the turbulent skies above the Southland Mall on June 7. A family with Berthoud ties escaped serious injury from the storm.</p>
Long Description:
<p>The collapsed ceiling and other debris at Red Brick Pizza at the Southland<br /> Mall following the June 7 twister.</p>
Category Lead:
Category Primary Featured Story

Print This Post