By Carolynn Wamsley
Berthoud Recorder
You might have heard some rumbling in the distance last Saturday and it was not thunder. It was the start of the third biannual Colorado/Wyoming Model T Tour hosted by the Northern Colorado Model T Club.
Sixty-four participants took off Saturday, June 13 for the six-day, 530-mile tour. Departing from the La Quinta Inn in Loveland, they first headed to Laramie Wyo. The other stops on the tour were Saratoga, Wyo., Craig, Steamboat Springs and Winter Park. The last day takes the group over Trail Ridge Pass, through Estes Park to the finish in downtown Loveland on Thursday, June 18. According to participants, the average speed is about 30 to 35 mph.
Much of the planning for this event took place in Berthoud, probably over the thrice weekly meetings for coffee at Hays Market. Dave Huson, who lives in Horseshoe Park, was the event organizer and said he started planning right after the previous event two years ago. Several Berthoud residents were also on hand as support staff. The event is open to any automobile built in 1927, the last year of the Model T, or earlier. Except for two Chevrolets, all of the cars were Ford Model Ts.
The Model T uses a gravity feed gas tank so traveling over the four mountain passes included on the tour can be tricky. It helps to have a full tank of gas. There will be plenty of support vehicles following along with the stream of horseless carriages.
Most of the participants have traveled a long way just to start this six-day journey. There were license plates from Washington state, Florida, Connecticut, California and nearly every state in between. Drivers have polished their wheels, tuned their engines and towed their Model Ts to Loveland to enjoy the tour with the old friends with whom they share a passion.
Category:
News – Community
News Image: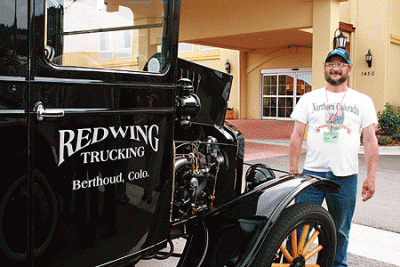 News Image: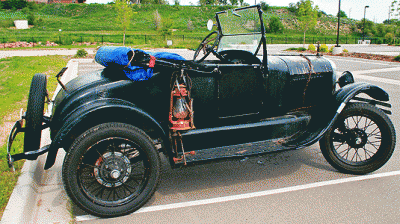 News Image:

Long Description:
<p>Bill Heidenreich's turbo-charged Red Wing Trucking Model T is a familiar sight around Berthoud. Heidenreich said he bought the truck 35 years ago in Byer, Colo. The truck is actually the combination of three trucks he bought back then and put them together as one. He won't be able to take the entire six-day tour but will serve as one of the support vehicle drivers over the first two days. Heidenreich also has a 31 Model A Coupe which has won a number of awards. He is the owner of RedWing Trucking and currently works for the Colorado Department of Transportation keeping the streets ready for the 2011 Colorado Wyoming Tour.</p>
Category Lead:
Category Primary Featured Story

Print This Post