On Thursday, March 5, Kevin Gonzales from Turner Middle School brought four students to the Northeast Colorado Regional Science and Engineering Fair at the University of Northern Colorado.
The four students were Matt Ayers, Ashlyn Lentz, Anna Megenhardt and Gerri Roberts. The students were competing in different categories including zoology, engineering, environmental science and chemistry.
At the end of the day, Gerri Roberts brought home several awards including Discovery Kids award, a Best Chemistry Exhibit award, an Outstanding Exhibit award by the Air Force Academy and also qualified for state competition. Gerri will be representing TMS and Berthoud in a three-day event held April 9 to 11 at the Colorado State University State Fair.
News Image: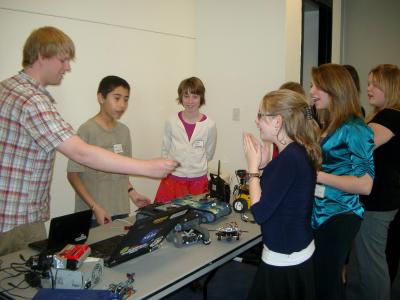 News Image: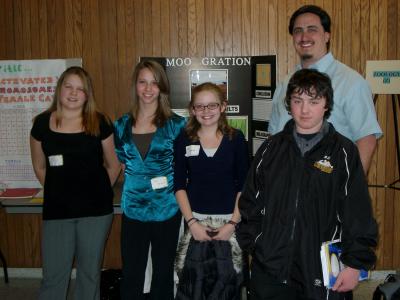 Long Description:
<p><span style="font-family: times new roman,times;"><span style="font-size: small;">TMS students view a robotics exhibit at the UNC fair.</span></span></p>
Long Description:
<p><span style="font-family: times new roman,times;"><span style="font-size: small;">TMS students, from left, Ashlyn Lentz, Anna Megenhardt, Gerri Roberts and Matt Ayers with teacher Kevin Gonzales in back, at the UNC fair.</span></span></p>
Category Lead:
Category Primary Featured Story

Print This Post