By Jamie Folsom
Berthoud Recorder

Berthoud Allstate Agent Sherry Unruh is making a move from the insurance business, some might say retirement, but Unruh has plans to pursue a higher calling. After 11 years at the agency she started, Unruh recently sold her practice and will be taking up a volunteer role with Life Choices Pregnancy Center in Longmont. The center is a ministry to "help young women by encouraging them to keep their baby or give them for adoption."

Unruh said a fundraiser for the center last October gave her "the push to get involved." She is excited to get started soon. "When something grabs you, you have to go for it."

And into the void steps Bob Silk, who currently owns an Allstate agency in Longmont. Along with expanding his business to Berthoud, Silk, a five-year veteran agent and father of three daughters, also pursues a higher calling — with Boulder Enhanced Supervision Team — BEST. He mentors youth who are in the county's criminal justice system. He said that although he gets to reach out to the community through his work associations, being a mentor gives him a more personal connection to those in need.

Unruh and Silk will hold an open house to celebrate both of their new endeavors Saturday, May 2 at the agency, located at 622 N. Fourth St., Berthoud. More information call (970) 532-5565.
Category:
News – Business
News Image: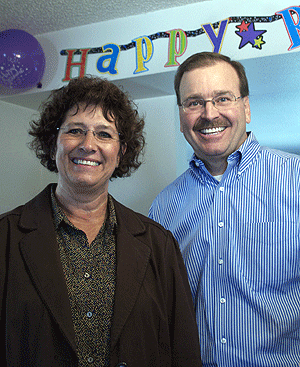 Long Description:
<p>Allstate agents Sherry Unruh and Bob Silk</p>

Print This Post