By Shari Phiel
Berthoud Recorder
Despite a growing focus on healthy, low-fat diets, the sad truth is Americans are losing the battle of the bulge. Obesity rates continue to climb. In 1962, 13 percent of Americans were obese. By 1980, that rate had reached 15 percent, and by 1994, 15 percent. At the turn of the new millennium, the rate had reached a staggering 31 percent. According to the U.S. Surgeon General, obesity accounts for more than 300,000 deaths per year. Unfortunately, obesity does not affect adults alone.
Obesity rates for children and adolescents are equally staggering. According to the Centers for Disease Control, obesity in children aged 2-5 years old has increased from five percent in 1974 to 12 percent in 2006. Rates for older children are even higher, with children aged 6-11 years old up from four percent to 17 percent, and 12-19 year olds up from six percent to almost 18 percent.
Images of cherubic, chubby-cheeked babies adorn coffee cups, mouse pads, calendars and any number of other items. Hollywood movies, television shows and commercials often feature adorably pudgy kids who undoubtedly go on to become lean, healthy adults. These kinds of images in the media can make it even more difficult for parents to know when it's just baby fat and when it's something more.
As noted on the McKee Medical Web site, "Not everyone grows and develops on the same schedule." Many children carry some baby fat into pre-adolescence or adolescence only to eventually lose the extra weight. But while all children will gain weight as they grow, extra pounds beyond what is needed for appropriate development can develop into obesity.
We have all heard about the dangers of obesity in adults. The consequences for children who are either overweight or obese are just and dangerous. The CDC notes that children with a body mass index (BMI) higher than 25 can be at risk for psychosocial problems, cardiovascular disease, asthma, sleep apnea, Type 2 diabetes and liver disease.
The CDC states, "Obese children and adolescents are targets of early and systematic social discrimination. The psychological stress of social stigmatization can cause low self-esteem which, in turn, can hinder academic and social functioning, and persist into adulthood."
Various things cause childhood obesity, including genetic, behavioral and environmental factors. Genetic research shows there may be inherited factors behind a susceptibility to gain weight. However, "because the factors that contribute to childhood obesity interact with each other, it is not possible to specify one behavior as the 'cause' of obesity," states the CDC.
Behavioral factors include energy intake, physical activity and sedentary behavior. Although little research exists on which specific foods contribute to childhood obesity, some studies have shown that large portions of food and beverages, eating meals away from home, frequent snacking, and consuming food and drink with added sugar are key elements, especially when combined with little or no physical activity.
Physical activity for teens and children is important, not only for maintaining weight, but also for managing blood pressure and maintaining bone strength. Children who participate in physical activities earlier in life are also more likely to be physically active throughout adulthood.
Perhaps one reason for the continuing increase in childhood obesity rates is the decrease in physical activity at school. The CDC notes that in 1991, 42 percent of adolescents engaged in daily physical activity at school. By 2003, that number had dropped to just 28 percent, a decrease of 14 percentage points in just 13 years. Never has it been more important for parents to get their kids involved in physical activities outside of school.
Children also spend far more hours in front of the TV playing video games and watching DVDs, movies and television shows than they should. Studies have linked increased TV viewing with more time away from physical activity, increased snacking on unhealthy foods, and lowered metabolic rates.
Environmental factors can also contribute to obesity in children. Interaction between a child and his parents, caregivers, peers and teachers at school can affect his weight. Childcare workers often share the responsibility of developing healthy eating habits, and many schools now offer healthy meals and educational programs focused on nutrition. Other environmental factors can include things as simple as easy access to parks, bike paths, and even sidewalks.
How can parents accurately determine if their child is overweight? You can't always tell by physical appearance alone. A child may have a naturally large frame while another may just carry weight differently. For many years, doctors used charts with weight and height to determine if a child was within their target range. Physicians now include the BMI formula, which looks at a series of measurements including height, age, gender and weight to determine if a child is at an acceptable weight.
Parents can determine their child's BMI but are encouraged to consult with their family physician to discuss the results. An online BMI calculator for kids is available through the McKee Medical Web site at http://kidshealth.org/parent/food/weight/bmi_charts.html.
If you think your child may be carrying too much weight, talk to her pediatrician or family physician. Your physician can help you understand and track your child's growth and determine if your child is at an unhealthy weight.
For more information about childhood obesity, visit the CDC online at http://www.cdc.gov/nccdphp/dnpa/obesity/childhood/index.htm, the Mayo Clinic Web site at http://www.mayoclinic.com/health/childrens-health/CC00049 or the American Obesity Association at http://obesity1.tempdomainname.com/subs/childhood/.
Category:
Special Section – Health and Wellness
News Image: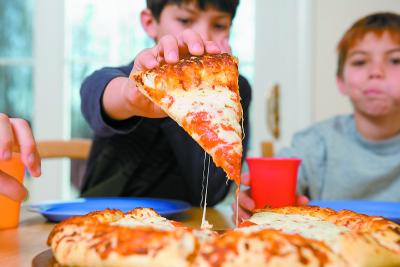 Category Lead:
Category Secondary Featured Story

Print This Post