By Laurie Hindman
Berthoud Recorder
Small robots and their masters took over the Berthoud High School gym on Saturday in the VEX Robotics regional competition — the first ever held in Colorado. VEX Robotics is a mid-sized robotic educational solution used in many schools from middle school to college level.
The stands were filled with visitors and family members who not only cheered on their teams, but enjoyed the concessions and the opportunity to tour the Little Thompson Observatory which was opened to the public for the VEX event.

The VEX Challenge was organized by Berthoud residents Ken and Liz Rayment, who partnered with BHS teacher Rob Sommerfeld. Liz Rayment is also president of Action Works, a 501(c)(3) organization whose mission is to "engage youth and build interest in the science, technology, engineering and math professions in Northern Colorado schools." Together, the Rayments and Sommerfeld created an exciting tournament in which 13 teams from middle schools and high schools from across the Front Range (and even a team from Gillette, Wyoming) competed against each other with elaborate robots the students built and programmed.
The thirteen teams competed on a 12-foot by 12-foot tournament field, using remote controls to guide robots to complete various tasks within two minutes. The robots had to pick up 4 inch by 4 inch blocks, place them into triangular shaped goals, flip a larger block so that the team color faced up and finish with the robot centered atop a platform.
Results were as follows:
Judges Award – Berthoud High School
This award is based on any area of the judges' discretion. This year the award was given to BHS for their teamwork and their superior engineering notebook.
Robotic Skills Challenge – Faith Christian Academy, Arvada
Programming Skills Challenge – Bill Reed Middle School, Loveland
Tournament Champions – Faith Christian Academy, Arvada
Culmination of Excellence (the highest award) – Grandview High School, Aurora
The winning teams from Saturday's competition (excluding the Judges award) will go on to compete at the VEX World Championship taking place April 30 to May 2 at the Dallas Convention Center in Texas. The event is the culmination of over 1,000 teams who competed in over 100 regional competitions from across the world.
Saturday's event sponsors, Woodward Governor of Fort Collins and GE Energy of Loveland were named, "Partners of the Year" by Action Works.
"The support that Woodward and GE have provided to these educational programs has been incredible," said Liz Rayment.
The companies not only provided funding, but manpower, sending volunteers to help with the setup and judging of the event. Woodward also donated laptops to Action Works; according to Rayment within two days of the donation, kids at a Title I elementary school were on the laptops programming robots.
Group Vice President of Woodward, Chad Preiss said Woodward was thrilled to be able to participate in the event. "It's exciting to see kids engaged in hands-on-engineering activities like this."
GE program manager, Mark Lloyd concurred. "We see these kids as our future engineers. Hopefully, they will be able to build on these skills and one day use these talents to make a living."
News Image: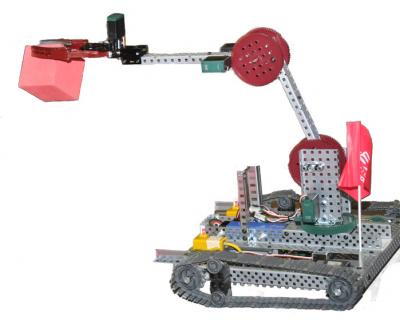 News Image:
News Image: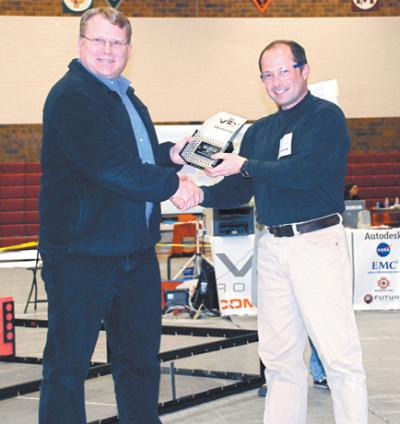 News Image: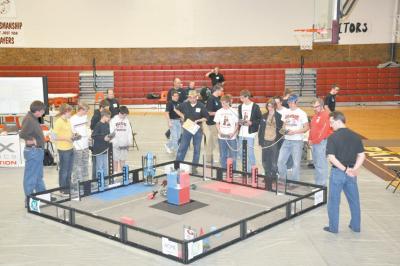 Long Description:
<p><span style="font-size: xx-small;">.</span></p>
Long Description:
<p><span style="font-family: times new roman,times;"><span style="font-size: small;">The Berthoud High School VEX robotics team earned the &ldquo;Judges Award;&rdquo; this award recognized the team&rsquo;s superior engineering notebook and teamwork. From left to right: Ken Rayment, BHS teacher Rob Sommerfeld and BHS students, Brad Von Seggern, Chad Schlagel and John Harvell.</span></span></p>
Long Description:
<p><span style="font-family: times new roman,times;"><span style="font-size: small;">GE Program Manager Mark Lloyd receives the &ldquo;Partner of the Year&rdquo; award from Ken Rayment, one of the VEX Robotics Challenge organizers. GE provided funding and manpower for the Saturday competition</span></span>.</p>
Long Description:
<p><span style="font-family: times new roman,times;"><span style="font-size: small;">A robot is driven to a triangular target where it drops a block. Each team competed to drop blocks in the target, earning the most points if their team color (red or blue) ended up on top.</span></span></p>
Category Lead:
Category Primary Featured Story

Print This Post