By Michael Hicks
Berthoud Recorder
Josh Schumacher, if nothing else, is modest. He's a kid of few words. You're not likely to find him tooting his own horn. So I'll do it for him … toot, toot.
He won't boast or brag about his performance. That's not his nature. If you ask him how well he did his answer is a simple one. "I did OK," Josh said.
But what is OK for Josh? How about taking first place in the state at the Rockies Skills Challenge, sponsored by the Colorado Parks and Recreation Association, a year after he placed third. That's a little better than OK to me.
The 10-year-old son of Paul and Gail Schumacher advanced to the state championship for a second straight year. But this time instead of facing 8- and 9-year-olds, the Ivy Stockwell fifth-grader was challenged by 10- and 11-year-olds. That in itself made his feat that much more impressive since the competition posed more of a threat.
"It was probably about the same, except probably a little harder," Josh said of facing the older kids.
A year ago, he said he couldn't wait to see how he matched up with the older kids. He almost, however, didn't get that chance.
In order for one to compete at state, which this year was held once again at Coca-Cola Park in Lakewood, you have to place first in your age group at both the local competition, which was held in Berthoud, and the sectional event, which was in Longmont. But at the Berthoud event Josh originally finished second.
"I was kind of disappointed," said Josh, who has a younger brother, Caleb, 8, and younger sister, Sarah, who is 5.
It wasn't until a week later that he received a phone call from Brian Barnes, rec coordinator for Berthoud's Parks and Rec department, that informed him of an age error, and that Josh had actually won the combined hitting, batting and throwing event. That meant he was moving on.
"It was really fun to play the message back because I heard it first, and I went out and got him," Gail Schumacher said. "I played it back for him and watched him. His face changed. The light bulb went on."
That's when Josh knew he still had a shot at state.
Two events later, he was not only at state, but he was the state's best in his age group. Besides being awarded a plaque and a gift bag of baseball items, Josh went to Denver's Coors Field, home of the Rockies, for Saturday's game against the Chicago Cubs and walked out on the field.
His name was shown on the big screen, and he was announced as the winner of the skills challenge for 10- and 11-year-olds. A crowd of more than 47,000 was on hand. And though the field, as Josh said, was "a lot bigger," he wasn't intimidated by the size of the crowd.
So will Josh be back at next year's challenge?
"I don't know," he said, but he hopes to be.
I'm willing to bet he'll be there again, but, knowing Josh, don't expect to hear him say too much about it. He'll just keep doing his talking where he does it best — on the field.
Category:
Sports & Recreation – View from the Sidelines
News Image: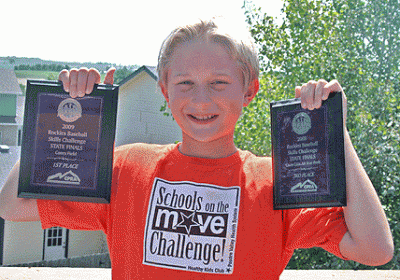 Category Lead:
Category Primary Featured Story

Print This Post