The Trayvon Martin case reveals a vigilante spirit in the US justice system
Prosecutorial misconduct, police corruption and 'stand your ground' laws are part of the lingering lynch mob mentality
By David A Love
The shooting of 17-year-old Trayvon Martin in Sanford, Florida, has exposed the issue of official misconduct, as police have failed to arrest, and prosecutors have refused to indict, George Zimmerman, Martin's self-professed killer. Zimmerman, a neighbourhood watch volunteer, claimed Martin looked suspicious and that he shot him in self-defence. Although a federal investigation is under way, Martin's parents have asked the US department of justice to investigate possible meddling by the state's attorney's office with investigations by Sanford police the night of the killing. Martin's family believe that state attorney Norm Wolfinger and Sanford police chief Bill Lee overruled the recommendation of the chief homicide investigator that Zimmerman be arrested and charged with manslaughter. Further, the "stand your ground" law implicated in this case enables vigilantes who wish to perform private, extrajudicial executions and become a legalised lynch mob. The law breaks with centuries of legal tradition by allowing a person to "stand one's ground" and use deadly force wherever he or she feels threatened, without a duty to retreat.
First enacted in Florida and now adopted by at least 21 states, the law is promoted by the powerful National Rifle Association and the American Legislative Exchange Council, or Alec. Alec is a Koch brothers-funded organisation of rightwing legislators throughout the country, responsible for anti-union, voter suppression and forced transvaginal ultrasound legislation in various states. Alec is supported by corporations such as ExxonMobil, Wal-mart, AT&T, Bayer, GlaxoSmithKline, Johnson & Johnson, Pfizer, UPS and until recently, Coca-Cola. … Read More
Neo-Nazi Vigilantes Are Patrolling Sanford's Streets
By Kristina Chew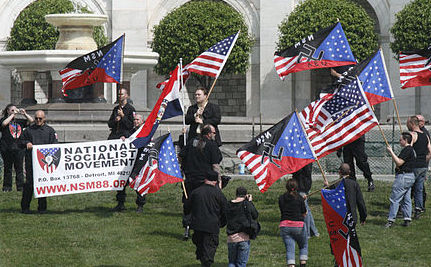 Heavily armed neo-Nazis have taken it upon themselves to patrol in and around Sanford, Florida, where 17-year-old Trayvon Martin was killed on February 26 by neighborhood watch volunteer George Zimmerman. Commander Jeff Schoep of the National Socialist Movement tells the Miami New Times that armed patrols are needed because "white citizens in the area … are concerned for their safety." Schoep, who describes his Detroit-based organization as a "white civil rights organization," claims that the $10,000 bounty put on Zimmerman by a group called the New Black Panther Party for a citizen's arrest is proof that racial violence could occur and that it's therefore necessary to be "prepared" for violence.
The patrols contain 10 to 20 locals and "volunteers" from across the state. Schoep did not specify exactly what kind of weapons they have armed themselves with but commented that "in Arizona the guys can walk around with assault weapons and that's totally legal" and that what "we are doing now in Florida" is "totally within the law." … Read more: 

Print This Post