By Shari Phiel
Berthoud Recorder
The lights along Berthoud's downtown stretch of Mountain Avenue are a little darker now that not one, but two of Berthoud's favorite establishments have closed. Early last week, The Wayside Inn notified customers they had closed their doors and on Tuesday, Feb. 10, Liz Rayment of Keep Sharp announced she would be closing the doors on her downtown shop.
The closing of The Wayside Inn, located at 505 Mountain Ave, has come as a surprise to many in Town. As one of the few restaurants that could provide a great meeting space along with quality food, the Wayside was a popular choice for businesses and organizations.
One of those organizations was the Rocky Mountain Carriage Club, which didn't find out their monthly board meeting would need to find a new location until that day. "Now we're at a loss for another place around here," said RMCC secretary Ann Materasso. Materasso closed the doors to her own Mountain Avenue business, Nightwinds Tack Shop just recently as well.
A sign posted on the Wayside's doors directed RMCC members to the new meeting location at Johnson's Corner. Materasso said they are looking for another location, one that is closer to Berthoud, for their meetings.
Hopefully, the business location won't be empty for long. Dan Eckles from Realtec Commercial Real Estate Services is the agent for the property and said, "We've had three different parties contact us since the sign went up." He also noted that all three are looking at operating a restaurant at the site.
The 10,774 square-foot location has certainly been priced to attract buyers. While the most recent appraisal for the property came in at $950,000, the building was placed on the market at $819,000 and includes all equipment, fixtures and furnishings. Broker incentives are also offered.
A little further east down the road, Keep Sharp has often been described as the most original and interesting toy store in the area. With games and toys for both kids and adults, the store was a popular choice for Christmas, birthdays and special occasions.
But Rayment isn't giving up the games and toys business for good. Like Materasso who moved from a brick-and-mortar business to an e-business, Rayment will continue to sell her "mind sharpening games and toys for the whole family" at her online store, which can be found at www.keepsharp.com.

While the dust raised earlier by the Mountain Avenue project has finally started to settle under a blanket of snow, it's clear that businesses along the Town's main roadway continue to struggle to survive.
News Image: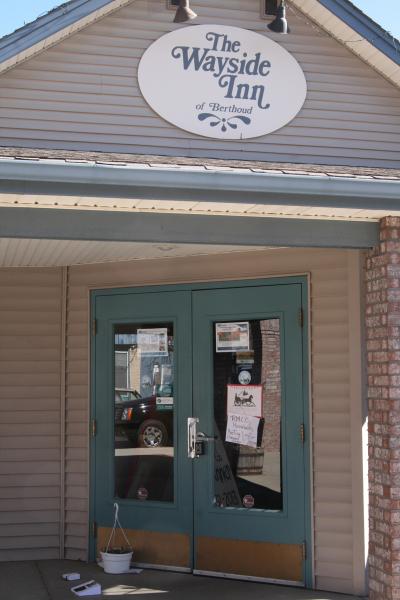 Long Description:
<p class="MsoNormal"><span style="font-size: small;"><span style="font-family: times new roman,times;">Real estate signs and notices for rescheduled meetings can be seen posted to the doors of the now closed Wayside Inn.&nbsp; </span></span></p>
<p>&nbsp;</p>
Category Lead:
Category Lead Story
Home Lead:
Home Page Secondary Featured Story

Print This Post