By Laurie Hindman
Berthoud Recorder
When your family has been in business as long as Eric Weedin's has your clientele is often built on generations of trust. "I have people coming in all the time saying, 'hey, your Dad was my wrestling coach' or 'my parents bought insurance from your grandfather,'" said Weedin. Weedin Insurance Agency was started by his grandfather in Loveland in 1956 and has served this area ever since. This month marks the 10-year anniversary for the Berthoud office. "I was once the new guy in town," laughed Weedin. "Now I have been here the longest." Weedin sees this as a real positive when selling insurance in a small town. "Who knows the risks better of a particular area than someone in the community?"
Weedin said his father, Lawrence Weedin, and grandfather, Ken Weedin, have established a long history of hard work and community involvement and he tries his best not to disappoint them. Weedin's father said there is no danger there. "Eric has done a tremendous job in Berthoud. We wouldn't be nearly so successful there without him."
Lawrence Weedin has had a longtime connection to Berthoud. In addition to selling insurance, he taught business classes at Berthoud High School and was the wrestling coach from 1971 to 1978. He sat on the Thompson School District School Board for four and a half years and still runs the Weedin Agency in Loveland. Ken Weedin has yet to retire. "Grandpa is 86 years old and still working full-time selling real estate. He's the first one in the office every morning. I think he trying to give the younger ones a message there," smiled Weedin.
Eric Weedin is a graduate of Adams State College in Alamosa with a B.S. in business management and minors in computer science and music. He pursued graduate studies at Colorado State University in computer information systems until 2002 when he left to manage the Berthoud branch. "The bottom fell out of the computer tech industry and my Dad asked for help for one year in the Berthoud office," explained Weedin. "I was reluctant at first because it wasn't what I imagined I would be doing. You know, no one grows up wanting to be an insurance agent. It's not glamorous. But it really clicked with me. I thought, boy, this could really be something positive."
While the work may not be glamorous, Weedin said it is very fulfilling. "Insurance is vitally important in the community, especially in today's economy." He said he also finds the work challenging. "Problem solving is a huge part of what we do."
Weedin Insurance is an independent agency, meaning they do not represent one specific company, but can offer insurance from thousands of different insurance brands. "This enables us to really customize a client's insurance portfolio to suit their individual needs." Weedin said they offer life, health, home, auto and motorcycle, disability, long-term care, workers compensation and professional liability. "Because we represent so many companies we don't fit the traditional model of what an insurance agency looks like. We can combine services and find options that fit a particular need."
Like his father and grandfather, Weedin is no slouch when it comes to being active in the community. In addition to running the Berthoud branch, he is very involved in the Berthoud Chamber ("I love the Chamber — it provides some incredible events in Berthoud"), is a member of the Loveland Rotary Club, plays trumpet in a 20-piece band called "Colorado Swing" (formerly known as Fort Jazz), is a "ballist" on the Berthoud vintage base ball team, the Berthoud Blues, plays between 70-100 soccer games a year and is married with a 12-year-old stepson.
"Community involvement is part of the legacy of a family business that goes back so far," reflected Weedin. "My grandfather is always talking about community. He says, to be a success you have to be a big part of the community — you have to give, not just take."
Weedin Agency is located at 235 Welsh Ave., right next to Grandpa's Café. They can be reached at (970) 532-3131.
Category:
News – Business
News Image: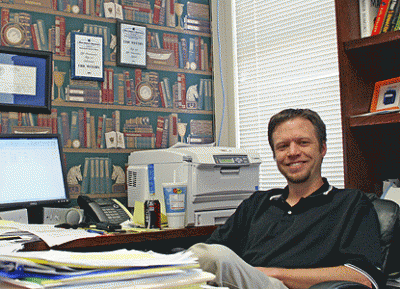 Long Description:
<p>Eric Weedin always has a ready smile for friends and clients. He is one of the longest-lasting insurance agents in Berthoud.</p>

Print This Post