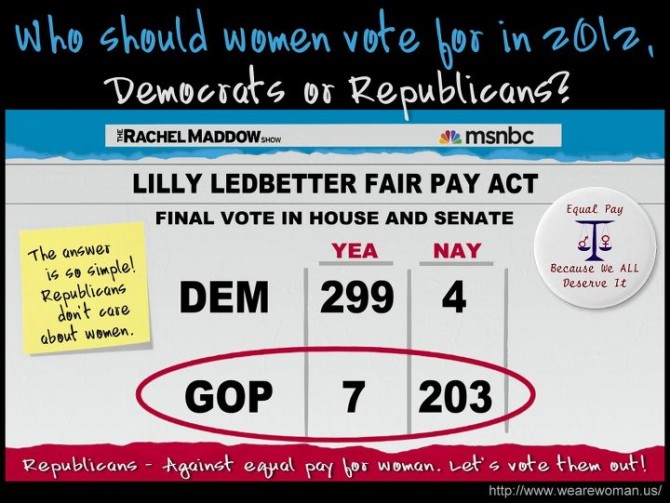 Romney Won't Say Whether He Would Have Signed Lilly Ledbetter Act
By Sam Stein
When Mitt Romney's economic advisers were asked last week whether the former governor supported the Lilly Ledbetter Act, they took a few hours to produce an answer. Even then, the aides left some questions unanswered.
Romney, aides said, supports the concept of equal pay for equal work and has no interest in repealing existing legislation. Whether Romney would have actually signed the Lilly Ledbetter Act into law in early 2009 was left less clear. … Read More
Lilly Ledbetter On Why Equal Pay Matters [Video]
On January 29, 2009 President Obama signed the Lilly Ledbetter Fair Pay Act. Since then Republicans have vowed to repeal it.
In this video Ledbetter shares her story. It's a powerful reminder of why equal pay matters, how far we still have to go, and what's at stake in the upcoming presidential elections. See Video
Dispatches From The War On Women: More Work, Less Pay
By Jessica Pieklo

Print This Post