Wilderness Adventures of Northern Colorado held a Wild Game Dinner at Grace Place Church on March 27. The group originated at Grace Place, but now includes several Northern Colorado churches as sponsors.
Their ministry is based on teaching in an outdoor setting. They promote interest in wilderness adventure among youth through participation in camping, hunting, fishing and other outdoor activities. The leadership consists of certified hunt masters and hunter education instructors.
Wilderness Adventures president John Lund, explained that they sponsor many activities and try to provide scholarships for those who could not otherwise afford to join in the activities. The Wild Game dinner is their major fundraiser and included raffles, a silent auction and a very spirited live auction after dinner.
The wild game dinner included such items as salmon, pheasant breast, elk steak and venison sausage. The diners filled the Grace Place sanctuary and ate heartily. The live auction items were displayed on the stage with elk mounts as a back drop. The items were all outdoor-based and included guided hunting and fishing trips, a hunting rifle and shotgun and several pieces of artwork.
The live auction started off on a special note. Larry Archer of Spring Creek Homes has been active in Homes for our Troops, which builds specially adapted homes for severely injured veterans at no cost to the veteran. One such home is being planned in Fort Collins for Marine Staff Sergeant John Jones and his family. Jones lost his legs in Iraq when an anti-tank mine exploded under his Humvee.
Archer introduced Jones, his wife Amber and Wyatt, the youngest of their three children. The first auction item was a painting, "The Fallen Soldier" and the proceeds were to go towards building house for the family. Spirited bidding and a skilled auctioneer fetched $1,300 for the artwork.
After working though another 20 items, including two half-day float trips on the North Platte river, the auctioneer announced that the folks from the Longmont Sutherland Lumber company would match the price of the last several items, the money will go toward the Jones' home. That generosity put over $2,000 additional in to the project.
The dinner and auction income will allow the group to continue their mentoring activities.
Category:
News – Community
News Image: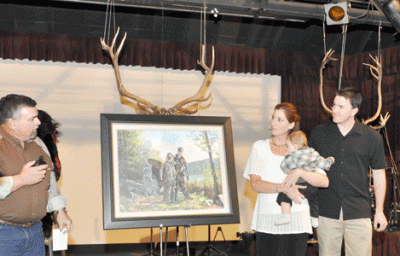 Long Description:
<p>Wilderness Adventures held its Wild Game Dinner at Grace Place Church on March 27. As part of the event, a live auction fundraiser was held with the painting, titled &ldquo;The Fallen Soldier,&rdquo; going for $1,300.</p>
Category Lead:
Category Primary Featured Story

Print This Post