Windsor 35, Berthoud 13
By Michael Hicks
Berthoud Recorder
WINDSOR — Berthoud head football coach Dan McGinn didn't have much to say in the aftermath of Friday's Tri-Valley Conference game at Windsor's H.J. Dudley Field. Whether it was his disappointment in the outcome or disgust in how the game turned out doesn't really matter. The scoreboard said all he needed to know: Windsor 35, Berthoud 13.
The fourth-ranked Wizards scored on three of their first four possessions and never looked back in beating rival Berthoud for the first time since 2002.
"They're a good football team. We'll come back and start playing better football. You've got to give a lot of credit to Windsor," McGinn quipped.
Windsor fullback Conner Glenn, who rushed for 251 yards and scored four touchdowns, reached the end zone three times before Berthoud even recorded a first down with seven minutes left in the first half. Glenn scored on runs of 3, 68 and 16 yards to give the host Wizards a 21-0 lead. He added an 85-yard jaunt in the second half, avoiding a tackle by Zachary Smith in the backfield before racing up the right sideline.
With that, Windsor exorcised the demon that hads haunted it for seven years.
"I know to our seniors it means a lot," Windsor quarterback Trevor Okamoto said. "I know there was a lot of talk about it [beating Berthoud] but mostly it's just Week 3 for us."
Berthoud finally scored with 56 seconds left in the first half when Kent Flynn reversed field and dashed 45 yards to cut the Spartans deficit to 21-7. But any momentum Berthoud (1-2, 1-1 3A Tri-Valley Conference) gained was gone seconds later.
Three plays after a 15-yard personal foul penalty set Windsor up at its 42 on the ensuing kickoff, the Wizards' Tyler Winder, their backup QB, caught a lateral from Okamoto and threw 49 yards to a wide-open Tanner Walker for a 28-7 halftime lead.
"Windsor made a good play," McGinn said.
"That was huge. Going into halftime 21-7 is a lot different then going in 28-7," Okamoto said. "Our team never stops working — I don't care if we're up 70 points or down 70 points. We're going to work all game long."
When the Wizards (3-0, 2-0) weren't making big plays, Berthoud was hurting its cause with penalty after penalty. Five times in the first half Berthoud was flagged — four of those for personal fouls. Overall, Berthoud was flagged seven times for 95 yards.
"There was a lot of lack of self-discipline out on the field. Our kids have to focus and realize they can't react to things. They'll do what they need to do to get better and we'll work on that this week in practice," McGinn said.
Berthoud capped the scoring with a 23-yard pass from Zach Ruebesam to Pat Conrey, but the Spartans couldn't take advantage of two late Glenn fumbles to pull any closer. Because of that, Berthoud is dealing with something it hasn't had to in seven years — a loss to Windsor.
---
WINDSOR 35, BERTHOUD 13
BERTHOUD 0 7 6 0–13
WINDSOR 14 14 7 0–35
W — Conner Glenn 3 run (Terran Hause kick)
W — Glenn 68 run (Hause kick)
W — Glenn 16 run (Hause kick)
B — Kent Flynn 47 run (Colton Moore kick)
W — Tanner Walker 49 pass from Tyler Winder (Hause kick)
W — Glenn 85 run (Hause kick)
B — Pat Conrey 23 pass from Zach Ruebesam (kick failed)
RUSHING: Berthoud: Kent Flynn 11-59; Zach Ruebesam 17-12; Greg Glasser 9-60. TOTALS: 37-131. Windsor: Conner Glenn 19-251; Aaron Schmidt 9-62; Trevor Okamoto 9-(-2); Dante Dennis 1-(-10); Jacob Molina 1-3; Banning Lobmeyer 1-2. TOTALS: 40-306.
PASSING: Berthoud: Ruebesam 15-28-1, 136; Windsor: Okamoto 4-8-0, 57; Tyler Winder 1-1-0, 49.
RECEIVING: Berthoud: Brandon Bratcher 2-15; Flynn 4-21; Glasser 1-18; Pat Conrey 8-82. TOTALS: 15-136. Windsor: Tanner Walker 5-106.
TOTAL OFFENSE: Berthoud 267; Windsor 412
FIRST DOWNS: Berthoud 14; Windsor 15
TURNOVERS: Berthoud 1; Windsor 2
PENALTIES: Berthoud 7-95; Windsor 8-65
PUNTS: Berthoud: Colton Moore 7-288 (41.1 average); Windsor: Jake Robinson 4-137 (34.3)
---
GAME PREVIEW
Northridge (2-1, 2-0 3A Tri-Valley Conference) at Berthoud (1-2, 1-1)When: Friday, 7 p.m.
Where: Max Marr Field
Last meeting: Sept. 18, 2008, Berthoud 60, Northridge 22. The Spartans collected 581 total yards, led by Jordan Major's 356 yards. Northridge led 14-8 before BHS scored 40 unanswered points to put the game away. Berthoud ran the ball 48 times for 411 yards in the victory.
Game notes: Kent Flynn scored on a 47-yard TD run in the second quarter, but Berthoud gave up 21 straight points to open the game in losing to Windsor for the first time since 2002. … The Spartans committed seven penalties for 95 yards, including five personal foul infractions. … The loss dropped Berthoud to 1-2 overall, 1-1 in the Tri-Valley Conference. … Quarterback Colton Taylor threw a pair of touchdown passes — one each to Matt Richie and Ben Cary — as Northridge scored its second straight Tri-Valley Conference victory, 34-3 at Frederick on Friday. … The Grizzlies broke open a close game with 14 second-quarter points to lead 21-3 at halftime. … Northridge is tied with Mountain View and Windsor at 2-0 in the conference standings.
TRI-VALLEY CONFERENCE FOOTBALL STANDINGS
CONFERENCE OVERALL PF PA
Mountain View 2-0 3-0 119 42
Windsor 2-0 3-0 109 51
Northridge 2-0 2-1 75 44
Fort Morgan 1-1 2-1 82 71
Silver Creek 1-1 2-1 53 54
Berthoud 1-1 1-2 81 55
Roosevelt 1-1 1-2 65 40
Frederick 0-2 1-2 17 73
Fort Lupton 0-2 0-3 12 117
Sterling 0-2 0-3 7 92
LAST WEEK'S RESULTS
Fort Morgan 22, Sterling 7
Mountain View 43, Fort Lupton 6
Windsor 35, Berthoud 13
Silver Creek 33, Roosevelt 31
Northridge 34, Frederick 3
FRIDAY'S GAMES
Silver Creek at Fort Morgan, 7 p.m.
Sterling at Mountain View, 7 p.m.
Northridge at Berthoud, 7 p.m.
Windsor at Fort Lupton, 7 p.m.
Roosevelt at Frederick, 7 p.m.
News Image: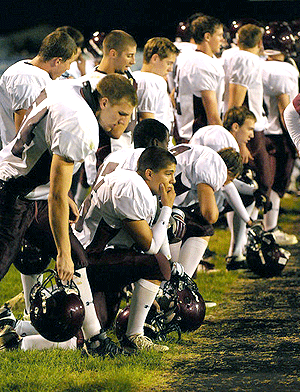 Long Description:
<p><span style="font-size: small;"><span style="font-family: arial,helvetica,sans-serif;">Berthoud dropped to 1-2 overall, 1-1 in the 3A Tri-Valley Conference.</span></span></p>
Category Lead:
Category Lead Story
Home Lead:
Home Page Primary Featured Story