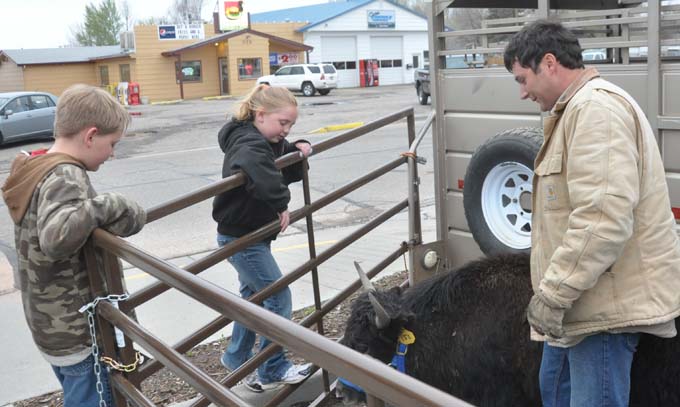 The Berthoud By the Book Planning Committee put together an entertaining finale for this year's book selection. The setting for Three Cups of Tea is Pakistan and Afghanistan and the committee brought together many elements to highlight the culture of the region.
Visitors to Friday's Persian New Year's party were greeted by two yaks. These are local yaks, born at Gillette Farms of Berthoud. Mindy and Maggie are yearlings now, but when they grow up, they will weigh about 800 pounds. Bulls grow to 1200 pounds or more.
Inside the library, several events were going on. The meeting room was the site for the video Afghan Star, modeled after the American Idol TV show. Pakistani food graced the table near the library desk. Zesty chicken drumsticks and saffron rice were among the many traditional dishes prepared especially for the event by Elvtha Yousaf.
With food in hand, one was drawn to the music coming from the children's library where a vibrantly dressed Bev Pogreba was entertaining with a traditional Pakistani folk dance. Pogreba said she started dancing after she became enamored with the Latin dances she saw on the I Love Lucy TV show. Now she does belly dancing and several other ethnic folk dance routines. She danced professionally for many years, appearing at ethnic festivals, weddings and restaurants. Fortunately for Berthoud, she lives nearby in Boulder.
Following Pogreba, the talented drummer, Kathleen "Zahar" McLellan delighted the crowd with her music, played on several types of drums including the darabouka and the Persian tonbak. It seems inadequate to describe what she does as drumming. The technique with these instruments is quite different than western style drum play. Rather than using a flat hand to "beat" on the drum head, Zahar uses her fingers on the entire surface from center to rim, creating a range of tones from a single percussion instrument; tones that are unfamiliar to the western ear.
McLellan said that she became fascinated with the instruments and music when her family hosted exchange students from the Mediterranean countries. "It was difficult to get instrument then," she said. "Now you can order what ever you want on the Internet." Her perseverance has paid off and she is part of the Sherefe Trio, which plays traditional music from the Balkans, Turkey and the Middle East on a variety of instruments. In addition, they sing in Greek, Turkish, Arabic, Macedonian and Bulgarian.
For a finish, Bev Pogreba danced to the drum accompaniment of Zahar and David Abraham. Abraham is the son of Beverly Abraham-Shahid who applied the henna body art at last week's event.
You can watch this performance on UTube.
The final event was entertaining as well as educational. The planning committee of Erika Ball, Barbara Boyd, Kathryn Churchill, Karen Crane Robyn Hutson, Linda Mathias, and Sara Wright provided a delightful series of events of all age groups for this, the Third annual Berthoud by the Book.

Print This Post