By P.J. DiPentino
Berthoud Recorder

For the past two weeks I have been busy building a BMX racetrack at the Loveland Boys and Girls Club. This track has been in the making for the past six months and marks the beginning of a great national program. The Larimer County Boys and Girls Club will have the first-ever sanctioned BMX track in the country. This alone is great news for the two organizations, but how it got done is the real story.
In today's stressed times, getting the funds for the venture was a difficult task. Thanks to the volunteers it has become a reality. Starting with the top, the president of the Larimer county BGC John Peden jumped in head first. Securing us with local contractors GE Construction and Volvo Equipment Rentals, GE Construction also provided two very experienced operators to help with the build out. Berthoud BMX and Rocky Mountain Racing designed and oversaw the build out. But it was the sweat equity that made the project work.

Rocky Mountain Racing provided the labor for free with the RMR racers shoveling and raking the track into shape. Kids from all ages gathered to help and the track came to life. This track will be like no other race facility in the country. The Loveland racetrack is the flagship for a brand new program to introduce BMX to America's youth. The tracks will be operated by the children who attend the BGC. The BGC riders will also maintain and run the races for themselves. All based on volunteer help, this facility will show that today's youth are interested in more than video games and lying around on the couch.

I am very excited about the fact that this national program was founded and started from Berthoud BMX, our local racetrack and our very own Rocky Mountain Race team. In a few weeks our racetrack will be a year old, and without the help of our Town, the Boys and Girls club deal would never have happened. We are very fortunate to have such a progressive sports community that could see outside the box and took a chance on a great idea. Without the initial support of our community Berthoud BMX would never have had the opportunity to give back in such a big way.

On Berthoud Days our local BMX track will be holding a three-day race. Riders from all over the country will migrate to our little town to compete on our first year's anniversary. This event will bring over 1,000 attendees to see what a great community we live in. I'm sure when they leave they will be saying what a great place to race Berthoud has become!
News Image: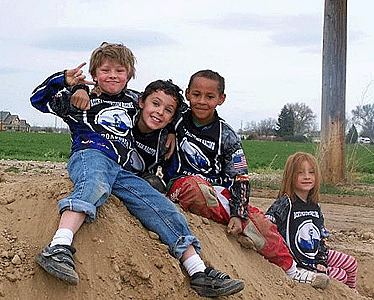 News Image: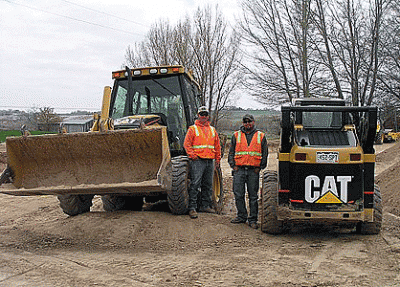 Long Description:
<p>Phillip DiPentino, Kaleb Killsnight, Joey Whitney and Olivia DiPentino spent the day putting in some &ldquo;sweat equity&rdquo; and learning the importance of volunteer work.</p>
Long Description:
<p>GE Construction equipment operators Justin Hillman, left, and Matt Sauer stand ready to move dirt to create a new BMX track for the Boys and Girls Club in Loveland.</p>
Category Lead:
Category Lead Story

Print This Post