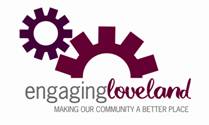 [1]Artist Brochure and Maps Available October 1
LOVELAND – The second annual Loveland Art Studio Tour is set for October 16-17 from 10 a.m.-5 p.m. each day at various artist studios throughout Loveland. This free, self-guided tour will feature 52-plus artists in painting, pottery, sculpture, jewelry, glass, photography and more!
The Loveland Art Studio Tour was created in 2009 to promote artists within the area and Loveland as an arts community. The map and artist director are available to pickup beginning October 1 at the following locations:
Engaging Loveland, 231 W. 4th Street
Rocky Mountain Bronze Shop, 546 SE 8th Street Bldg A #2
Lincoln Gallery, 429 N. Lincoln Avenue
Loveland Museum/Gallery, 503 N. Lincoln Avenue
Columbine Health Systems – North Shore, The Wexford and Lakeview Commons, 29th and Taft
The Masters Fine Art of Loveland, 343 E. 7th Street
Independence Gallery, 440 N. Lincoln Avenue
Artisan You!, 341 E. 4th Street
Almosta Mercantile, 343 E. 4th Street
Art Lab, 218 E. 4th Street
The Great Frame Up, 5943 Sky Pond Drive
Home State Bank Locations in Loveland
This year's tour is sponsored by the Community Foundation of Northern Colorado, Home State Bank, 99.9 The Point, Tri102.5, Loveland Connection and the Reporter Herald.
For more information, visit www.lovelandartstudiotour.com <http://www.lovelandartstudiotour.com/> or contact Engaging Loveland at 970-980-4764, www.engagingloveland.org <http://www.engagingloveland.org/>
About Engaging Loveland, Inc.
Engaging Loveland Inc. is a non-profit organization whose mission is to enhance and support the development of community-wide events and celebrations; and enhance tourism and attendance. Engaging Loveland produces the Sweetheart Balloon Rally, The Art of Dining, Loveland: A City with HeART project, SummerFest in the Rockies, Sculpture in the Dark, Loveland Art Studio Tour, manages home opener for the Colorado Force, manages the WineDown the Summer At Centerra, Sounds of Centerra, Summer Blast at Centerra, Halloween Hullabaloo, and Santa's Workshop events, and partners with the Loveland Chamber of Commerce to produce the annual Old-Fashioned Corn Roast Festival.