After Signaling Support, John Boehner Calls Tax Break For Middle Class 'Chicken-Shit'
Alex Seitz-Wald on Dec 2, 2011 at 4:10 pm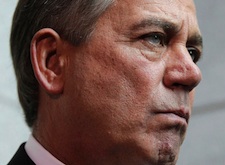 Despite their stated opposition to tax increases, Republican lawmakers have been largely cool or even hostile to a proposed extension of the temporary payroll tax cut, pushed by President Obama and Democrats. Finally, this week, Republicans seemed to relent as GOP congressional leaders publicly urged their caucuses to vote for an extension of the plan. "The fact is that Republicans are doing everything we can to allow American families and small businesses to keep more of what they earn," Speaker John Boehner (R-OH) said this morning of efforts to whip GOP lawmakers to support an extension.
But in private, Boehner seems to hold a different view. Politico reports that in a closed-door GOP meeting this morning, Boehner referred to an extension of the payroll tax holiday as "chicken-shit," saying he wanted to tack on unrelated legislation favored by Republicans to make it palatable: … Read More   
Related: original article from Politico
House GOP loads up year-end bill 
A year-end push to extend the payroll tax holiday in the House is quickly morphing into a vehicle for a slew of policies that Republicans have been yearning to enact.
GOP leadership told its membership at a closed-door meeting Friday morning that it would couple with the expiring tax provisions an easing of environmental regulations on boilers, selling broadband spectrum and paving the way for the controversial Keystone XL pipeline.
Read more: http://www.politico.com/news/stories/1211/69618.html#ixzz1fir0CFUs

Print This Post