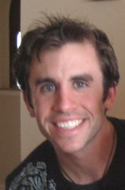 Berthoud, CO,  Local artist Tyler Kennedy celebrated selling his 8000th print reproduction of his paintings on Thursday, May 27. To commemorate the milestone, he announced a contest to name his newly released painting.
Tyler's newest painting is a romantic piece featuring two barn swallows gliding above a blossoming plum tree (see attached), and can be personalized with names "carved" in a heart at the base of the tree. To submit an entry, email your title entry and contact information to tyler@solsticearts.com. He will select the winning painting title at the end of June, and the winner will receive a free personalized framed print.
Tyler graduated from Windsor High School in 2003, where he was the student body president and was active in both theatrical and visual arts. During his senior year of high school, he saved up money from his part-time job at Sportsman's Warehouse to publish his drawing of his black lab titled "Pheasant Pup. "
Following High School, Tyler began college at Pepperdine University in Malibu, CA and finished at DePauw University in Greencastle, IN with a BA in Economics and Communication. While in school, Tyler continued to paint his work was published by Solstice Arts – a local art publishing company. More importantly, Tyler married his wife of 4 years Jennifer during their junior year of college.
After working several years in Ohio, the Kennedys moved back to Northern Colorado where Tyler accepted a position as Marketing Director at Solstice Arts located in Berthoud, CO. For more information about the company and artist, visit www.personal-prints.com.

Print This Post