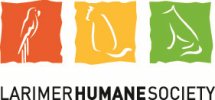 Special Off-Site Adoption Event to be Held at the Promenade Shops at Centerra
Fort Collins, Colorado (October 7, 2010) – Larimer Humane Society's Executive Director, Judy Calhoun, is "kenneling up" this Friday, October 8, 2010, at the Promenade Shops at Centerra in an effort to raise awareness for homeless animals and the multiple benefits of adopting a shelter pet. Ms. Calhoun will be joined by the organization's Director of Animal Protection & Control, Bill Porter, and the President/CEO of the Loveland Chamber of Commerce, Brian Willms, in a human-sized kennel where they will spend the day until each party reaches their "adoption goal" for the shelter.
The off-site adoption event, titled "The Great Kennel-Up" will take place from 11:00 a. m. to 1:00 p. m. at the Promenade Shops near Rock Bottom Brewery, and continue from 2:00 p. m. to closing at Larimer Humane Society, located at 6317 Kyle Avenue in south Fort Collins. At these locations, the "impounded" community leaders will stay in their human-sized kennel until a set number of adoptions is reached at the shelter. Each participating community member has been asked to set their own personal adoption goal for the number of adoptions they hope the shelter will achieve for the day.
Ms. Calhoun has chosen to set her adoption goal at seven animals. To fulfill her commitment, Ms. Calhoun must remain in the human-sized kennel until Larimer Humane Society adopts out seven animals on Friday. In lieu of an animal adoption, Ms. Calhoun and her kennel mates will also have the option of paying $75 per animal to advance his/her release.
To commemorate the first annual Great Kennel Up event, Larimer Humane Society will be offering substantially discounted adoption fees for the day. Dogs, puppies and kittens will have their adoption fees reduced to $75; cats age one year and over will be available for $25. A separate $10 licensing fee will apply.
Select dogs from Larimer Humane Society will be available for adoption at the Promenade Shops from 11:00 a. m. to 1:00 p. m.
"I am honored to participate in Larimer Humane Society's Kennel-Up event, " said Brian Willms, President/CEO of the Loveland Chamber of Commerce. "It's important for our community to support our local businesses and non-profits, and what better way to do that than through a creative event that raises awareness for animals in need of compassionate homes. "
This event was made possible by generous donations from Tri 102.5 and 99.9 the Point, the Promenade Shops at Centerra, Rock Bottom Brewery and the Loveland Home Depot.
Patrons who adopt a dog or cat from Larimer Humane Society during the months of August, September and October will not only save a life, but also assist Larimer Humane Society in its quest to win the Save More Lives – ASPCA $100K Challenge by finding homes for a minimum of 300 more animals this fall than in 2009.
About Larimer Humane Society Founded in 1969, Larimer Humane Society is an independent, non-profit organization whose mission is to promote and provide the responsible care and treatment of animals. As an open door facility, Larimer Humane Society provides shelter and care to every animal in need, regardless of breed, sex, age, behavior or history. Through our quality adoptions, veterinary care, education, WildKind, and Animal Protection and Control services, Larimer Humane Society provides shelter, medical attention and care to nearly 12,000 domestic and wild animals each year. Please visit www.larimerhumane.org for more information.

Print This Post