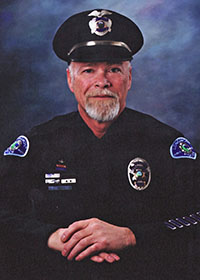 On June 6, 2018 the Lord called home Cary Edward Nickolls.
He was preceded in death by his father, Charles Edward Nickolls, his mother, Billie June Nickolls and the love of his life, Marge Ramirez. He is survived by his older brother, Robin Nickolls, sister, Tracey Hoard, his younger brother, William Nickolls, and his fur baby, Tiana. Marge's family accepted him as one of their own.
Cary was born at Fort Rucker, Alabama on January 24, 1955, the second son into what would become a family of Army brats. At a young age he lived in Verona, Italy for 3 years and welcomed his sister, Tracey into the family. His father had several duty stations in the United States and when he was on his first tour of three in Vietnam, his youngest brother, William, was born at Fort Campbell, Kentucky. After moving many times, the family settled in Fairfax, Virginia in 1969 when Dad was assigned to the Pentagon and subsequently retired. Cary graduated from Fairfax High School and attended George Mason University. He worked at Little River Veterinary Clinic developing a passion for dogs.
Upon his moving to Colorado in 1976, he worked for a short time at a security agency. He then applied to the Longmont Police Department where he began a career spanning over 36 years. Early in his police career he served as a K-9 Officer until the program was discontinued. He served with Honor, Dignity and Grace. He was kind and gentle but a true warrior. He was predestined by God to be what he was. He was humble and practiced humility every day.
Cary and Marge loved Colorado Rockies baseball, attending many games with Marge's large and loving family. He loved his golf game and golfing buddies.
A Memorial Mass will be held at 10:00 a.m., Friday, June 15, 2018 at St. John the Evangelist Catholic Church in Loveland. Viewing will take place from 3-6:00 p.m., Thursday at Kibbey-Fishburn Funeral Home, 1102 N. Lincoln Avenue, Loveland. Inurnment Loveland Burial Park.
In lieu of flowers, memorial contributions may be made to the CU Foundation, to be used for the Magdalena Ramirez Memorial Scholarship Fund, in care of Kibbey-Fishburn Funeral Home.