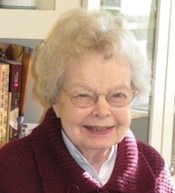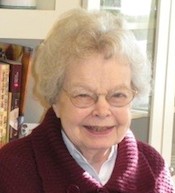 Lavinia "Jean" Alaback, 90, of Loveland passed away peacefully on the Winter Solstice, December 21, 2014.  Jean was born on June 13, 1924, in Oak Park, Ill, to Thomas and Gladys (Lavinia) Elliott.  She grew up in Elmhurst, Ill, and attended Stevens College in Columbia, Missouri. Jean was married to Glenn James "Jim" Alaback for 62 years. They lived in the Chicago area, and then moved to San Diego in 1986 when Jim retired. She moved to the Loveland area in 2010 to be close to her son's family.
Jean was baptized and confirmed in the Episcopal Church, and she volunteered with the Church and hospital auxiliaries where ever she lived.  She was an accomplished needle point artist and enjoyed gardening, reading, and the company of family.  Her family appreciated her as a generous, kind, and loving woman.
Jean is survived by her son, Paul (Carol Brewer) Alaback of Berthoud, sister Margaret Lavin of Chicago, Illinois, and grandson, Sean Alaback, of Providence Rhode Island.  She was preceded in death by her parents and husband.
Memorial Services will be held at 2:00 pm Saturday, January 17, 2015, at Allnutt Funeral Service in Loveland.  Memorial contributions may be made to Berthoud Historical Society or the Trust for Public Land in care of Allnutt Funeral Service. Please view the online obituary, send condolences and sign the family guest book at www.allnutt.com. [1]