December 16, 1962 – April 22, 2011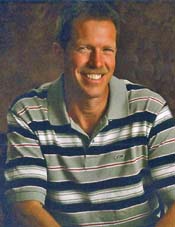 Randolph Scott 'Randy' Stewart, 48, of Berthoud, Colorado, passed away on April 22, 2011 after losing his long, hard-fought battle with ALS (Lou Gehrig's disease).
He was born December 16, 1962 to Mary Delcamp Stewart and Douglas Stewart in Denver, Colorado.
Randy graduated from Erie High School in 1981, and went on to work many years in the construction and home remodeling industry. In March 1986, he was introduced to who would become his soul mate, Denise McDonald. They went on to marry in August 1986. They brought two wonderful sons into the world, Chad & Drake. Randy just loved his family and just couldn't get enough family time in. Whether it was hanging out at the lake, water skiing, camping at Blue Mesa Reservoir, winter snowboarding, rebuilding muscle cars, or just hanging out in the back yard, family was everything to Randy.
He is survived by his wife of 25 years, Denise and his two sons, Chad & Drake, all of Berthoud; his mother, Mary Stewart of Johnstown; his brother, Roger Stewart and wife Judy of Windsor, and his sister, Rhonda Moore and husband Tyler of Berthoud. He had 5 nephews, Troy Jacob, Jeremy, Colton and Clay; one niece, Jamie and numerous aunts, uncles, and cousins. He is preceded in death by his father, Douglas Stewart, who also passed away from ALS, and his sister Robin who just passed away in the fall of 2010.
A memorial service will be held 11:00AM on Wednesday, April 27, 2011 at Ahlberg Funeral Chapel. Cremation is under the care of Ahlberg Funeral Chapel and Crematory. Memorial contributions may be made to "College Invest" to help assist in his children's education expenses and mailed to Ahlberg Funeral Chapel. Share condolences and memories with Randy's family at www.ahlbergfuneralchapel.com .

Print This Post