By Laurie Hindman
Berthoud Recorder
Berthoud Recorder's newest, and youngest, writer is a young lady of many talents and interests. From chemistry to jewelry making, (soon-to-be) 14-year-old Gerri Roberts has a long list of accomplishments for one so young. Her bedroom, nicknamed the "purple dungeon" by her mother, Debbie Crans, has all the usual trappings of a teenaged girl — bead necklaces, posters, stuffed animals, lotions and lip gloss — but the dresser is crowded with trophies and a string hung with winning ribbons stretches the length of the room.
An honor roll student at Turner Middle School, Gerri was a member of the TMS forensic team, the Drama Club, the yearbook staff and, for the past three years, the Lego Logo robotics team. Last year Gerri took up karate as well and currently has an advanced orange belt. "It was her family goal to get involved in a sport," said Crans. "We never have to tell Gerri to read a book, but we often have to tell her to put the book down and get some exercise." During the summer months, Gerri volunteers at the Berthoud library, helping with the summer reading program and shelving books.
Currently Gerri's time, like many local kids', is spent absorbed in the completion of 4-H projects for the Larimer County Fair. Gerri has been a ribbon winner many years for projects in cake decoration, sewing, quilting, food and nutrition, crocheting and latch hook rugs. This year, Gerri is submitting projects in bead stitching, as well as leadership and child development.
"I no longer listen to complaints about, 'I don't have enough time,' said Crans. "Gerri is one of those kids who filled with ideas for new projects. She is almost always successful at what she takes on."
In addition to her love of 4-H projects, Gerri has a passion and aptitude for science. She won Best in Show at the 2009 Turner Middle School science fair for her project, "A Model Study of Drug Intake." The project tested whether different sized cells affected a particular drug's ability to penetrate the cell membrane. She went on to compete regionally, where she won the Discovery Kids award, Best Chemistry award and the Outstanding Exhibit award. From there Gerri competed in the state finals at Colorado State University where she took third place honors in the chemistry division.
Gerri's love of chemistry runs in the family; Crans is a professor of chemistry at Colorado State University and her father, Chris Roberts, is a chemist at Roche Colorado Corporation in Boulder. Gerri has a twin sister, Patty, who has a passion for performance arts and is currently in California auditioning for acting roles and a younger sister, Mia, who is a fourth grader at Berthoud Elementary.
This fall Gerri plans to attend the International Baccalaureate program at Poudre High School in Fort Collins. "I want to go to a good college," said Gerri. "Poudre High School sends a lot of students to Ivy League schools and I hope to be able to go to one too." Gerri said her favorite subjects are science and math and hopes to be a scientist, but has not narrowed down the particular field just yet. "That's what high school is for," said Gerri with a smile.
Although she is a little nervous about writing for the Berthoud Recorder, Gerri said she enjoys writing and has written a lot of 4-H stories as well as been published four times in the Young Poet's Collection, an annual compilation of young writers from around the nation. And, like most good writers, Gerri is an avid reader. " Once I start a good book I can't put it down," admits Gerri. "I love to read."
Gerri will be providing Berthoud Recorder readers with a 4-H insider's view throughout the Larimer County Fair.
News Image: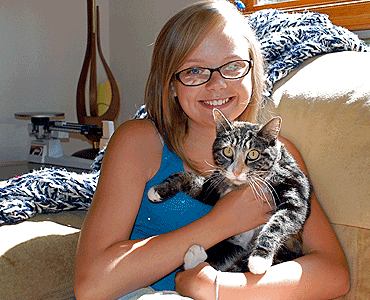 Long Description:
<p><span style="font-size: small;"><span style="font-family: arial,helvetica,sans-serif;">Berthoud Recorder&rsquo;s newest writer, thirteen-year old Gerri Roberts and her cat, &ldquo;Roxy.&rdquo; Gerri, a seasoned 4-H participant with many ribbons under her belt, will be giving an insider&rsquo;s view of this year&rsquo;s Larimer County Fair.</span></span></p>
Category Lead:
Category Secondary Featured Story