JOHNSTOWN — Roosevelt pitcher Jarron Cito held Berthoud to two hits and the host Rough Riders lit up Spartans pitching for six runs in the third inning en route to an 8-0 victory Tuesday afternoon.
Cito struck out the first six batters on his way to fanning 12 for the game. He held the Spartans without a hit until Danny McGinn's two-out single in the top of the sixth. Zack Allen later added a two-out hit in the seventh.
McGinn started on the mound for Berthoud (1-6, 1-3 4A Northern Conference) and gave up solo runs on four doubles in the first two innings. But the senior right-hander couldn't get out of the third, surrendering five runs capped by Brandyn Hernandez's three-run home run to right-center field. Mike McSwain added a second home run in the inning for Roosevelt, this time off Allen. It would be the only run on three hits that the Berthoud reliever would allow in four innings of work.
"They kind of inched away there a little bit. It's just being so flat at the plate doesn't help a pitcher out when you're trying to get in a pitcher's duel," Berthoud head coach Dustin Kennard said. "Zack had three great showing in a row. There's not much you can do when you come out and don't hit the ball. That kid, take your hat off, threw a great game. Zack came out and showed pretty strong."
The loss was a setback for Berthoud, which scored its first victory of the season, 14-1, at Sterling on March 24. Colton Moore homered and Brad Dick drove in four runs for the Spartans.
Berthoud scored six runs in the second inning and added five more on the sixth to finish off the game. Logan Schuster drove in three runs and Jordan Major scored three times.
ROOSEVELT 8, BERTHOUD 0
Berthoud 000 000 0 — 0-2-1
Roosevelt 116 000 x — 8-9-0
W — Jarron Cito; L — Danny McGinn
HR — R — Brandyn Hernandez, Mike McSwain
Leading hitters — B — McGinn 1-3, Zack Allen 1-3; R — Cito 2-4, RBI; Colton Gibson 2-3, RBI; Hernandez 1-3, 3 RBI, run
GIRLS TENNIS: Kemp, No. 2 Doubles Tandem Spark Lady SpartansGREELEY — Sarah Kemp bounced back from a second-set defeat to topple University's Hannah Paden 6-1, 4-6, 6-1 in leading Berthoud's girls tennis team to a 4-3 win Tuesday afternoon.
The victory was one of three for the Lady Spartans in singles competition. No. 1 seed Katie Beckvermit rallied from an early 5-2 deficit in the first set for consecutive 7-5 wins over Lindy Matthews. No. 3 singles Dusti Waite beat Elizabeth Paden 6-4, 6-3.
Berthoud's lone doubles victory turned out to be the deciding factor in the match as the No. 2 tandem of Maya Lindgren and Jessica Mulder punched out a 6-4, 7-5 win over Sara Regan and Julia Arguello.
The match was the first in nearly three weeks for Berthoud, which hadn't played since a victory at Erie on March 12.
BERTHOUD 4, UNIVERSITY 3
Singles:
No. 1: Katie Beckvermit (B) def. Lindy Matthews, 7-5, 7-5
No. 2: Sarah Kemp (B) def. Hannah Paden, 6-1, 4-6, 6-1
No. 3: Dusti Waite (B) def. Elizabeth Paden, 6-4, 6-3
Doubles:
No. 1: Alex Widick/Amanda Welch (U) def. Sarah Pilkington/Kara Godebu , 7-6 (2), 6-4
No. 2: Maya Lindgren/Jessica Mulder (B) def. Sara Regan/Julia Arguello, 6-4, 7-5
No. 3: Sam Chacon/Kaylee Carlson (U) def. Alicia Lentz/Cindy Davis, 6-3, 6-4
No. 4: Nina Creed/Emily Strieber (U) def. Jenny Raak/Kate Essig, 6-2, 6-4
GIRLS SOCCER: Lady Spartans Win 2nd Straight
GREELEY — Brittany McNeill scored the game's lone goal as Berthoud's girls soccer team won its second straight, 1-0 over Northridge on March 25.
McNeill's tally, off an assist from Hilary Cito, came just minutes after a Northridge penalty kick ricocheted off the goal post.
Berthoud improved to 2-2-1 with the victory, while Northridge dropped to 3-4.
"Full credit to the team for playing composed the entire way, even in a close game," Berthoud head coach Jeff Benjamin said. "The defense, including Amy Loberg, locked things down and gave Northridge only a couple of scoring chances in the second half. It was an all-around solid effort and a great win."
Benjamin was pleased with the play of his midfield — Cito, Jessica Parrish and Sarah Loberg — who controlled the flow of the game throughout. Lady Spartans goalkeeper Lydia Munoz made seven saves in the victory.
BERTHOUD 1, NORTHRIDGE 0
Berthoud 1 0—1
Northridge 0 0—0
Scoring summary
B — Brittany McNeill (Hilary Cito)
Saves: B — Lydia Munoz 7, N — Megan Gregory 7
News Image: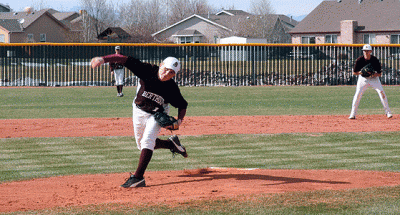 News Image: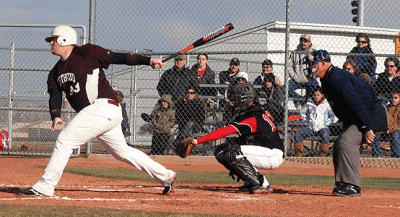 Long Description:
<p>Spartans starting pitcher Danny McGinn gave up seven runs in two-plus innings Tuesday in an 8-0 loss at Roosevelt.</p>
Long Description:
<p>First baseman Brad Dick swings and misses.</p>