By Laurie Hindman
Berthoud Recorder
In 1978, when Berthoud students still attended the junior-senior high school in the Turner Middle School location, Len Sherman was principal. He was also part of a team that reviewed design plans for the new high school on Spartan Avenue.

Sherman was there when a backhoe broke ground on that high school and was there the first morning students walked through the doors. More than 31 years later, he was still principal when BHS celebrated the grand opening of the 19,000 square foot addition that added "smart classroom" technology in two science labs and a new physical education classroom.
Handing out hundreds of diplomas during his tenure, Sherman has attended numerous special events for Berthoud students, including birthday parties, scholarship awards, college graduations, weddings, Scout ceremonies, military honors, celebrations of childbirths and countless others. He has survived rough periods — police investigations, student detentions and expulsions — and has counseled cajoled, encouraged and rejoiced with his students. And he offered solace and compassion to students, faculty and parents during the painful weeks following the tragic death of a student.
Through it all Sherman has had one mantra: "It's all about the kids." He noted, "Every change we ever considered I have always asked — is it good for the kids?" Compassion for kids and passion for education is what inspired Sherman to stay with Berthoud High School all these years.
"Berthoud is a great community," said Sherman with the warm enthusiasm for which he is known. "In times of trouble, in times of happiness or in times of need, we pull together. I love this community."
The outgoing principal is clearly proud of his legacy, but in true Sherman style, deflects all praise to the students, parents and staff of BHS. "We have always been blessed with great kids and great teachers." He adds that Berthoud has produced more National Merit Scholars and more Boettcher Scholarship recipients than the other three district high schools, which are at least twice the size of BHS.
Sherman said he is always amazed at how dedicated and involved Berthoud parents are in their schools. "From the very beginning we have had incredible parents." One example was when the school first opened they had no football fields and were told all football games would be played in Loveland. "The parents went out and raised money to put in bleachers, goal posts, sidewalks. They did all the labor themselves. Then they went to the [school] district and said we want to give this to you. Now let us have football games at home. That is the kind of parents we have here."
He describes BHS as a school of "firsts" — the first in the District to have computers, specifically the newly created Apple computer and the first in the district to hold parent teacher conferences.
"The district wasn't doing it at the time. They would just send out report cards. We always believed that talking with parents, even more importantly listening to parents, should be a priority." And long before the district held it's first DAAC, District Accountability Advisory Committee, meeting and mandated that each school must hold monthly School Accountability Advisory Committee meetings, Sherman and the early BHS staff created the School Improvement Team, a group comprised of teachers, staff, parents and students whose mission was to discuss issues and find ways to do things better.
"We were very much into the effective schools movement of the 1970s that came out of Michigan State. Basically meaning we examined what we were doing and measured whether it was effective. Our goal was to make improvements in students' educations," explained Sherman.
BHS was also on the cutting edge nationwide when it came to school-to-career programs. Sherman said they were recognized by the Department of Education as a "New American High School " for working to connect kids to what comes next after high school. "We wanted kids to tell us their dream and helped them see the steps to make it happen."
Over the years, education priorities have changed, district goals have changed and the world has changed — 9/11 happened, and technology has made phenomenal strides. But, Sherman said with a smile, "Kids are still kids."
"We have a group of people in our community that are growing, learning and sometimes don't always make the best choices. They are called teenagers. No matter what the current times brings, these young people still need guidance, opportunity and challenges."
Sherman said one of the key differences in education today is that public schools are "not the only game in town." He noted, "It used to be kids went to their neighborhood school. Now you have private schools, charter schools, virtual schools, homeschooling and church affiliated schools. Even public schools must compete with each other for students."
One of the most positive changes for BHS, said Sherman, was its designation as the math/science focus school. "The biggest challenge Berthoud schools will face in the next few years is declining enrollment. Hopefully, our magnet program will attract kids from not only the immediate community, but from Longmont, Fort Collins and other areas."
While he is looking forward to retirement, he won't be resting on his laurels. "Marge (Sherman's wife) has a long honey-do list." He and Marge also plan to visit their son and daughter-in-law in New Hampshire this fall, as well as embarking on other travels. Sherman was a history major in his undergraduate degree, but never learned about Colorado history. "I plan to audit a couple of courses," said Sherman. "I won't be writing any papers," he added with a laugh.
Sherman said, eventually, he will make a return to working again in some capacity. "Once I get a few projects done at home I will be needing something to do. Marge doesn't want me underfoot and I am not used to having extra time on my hands."
This is what worries Judy Rugg, who has been at BHS for 20 years and Sherman's secretary for the past eight. "He has lived for these kids," said Rugg. "He really doesn't have a hobby. It has all been about the kids."
News Image: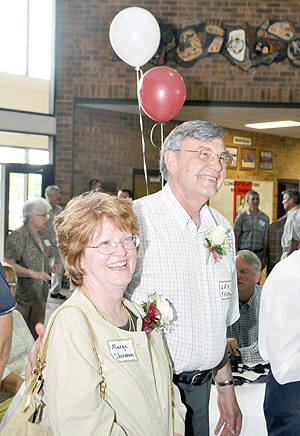 News Image: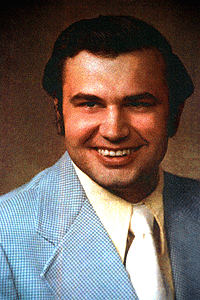 Long Description:
<p>Leonard Sherman and his wife, Marge, enjoy the pre-program entertainment by the Typecast men's choir.</p>
Long Description:
<p>A younger Leonard Sherman from the 1980 BHS yearbook displays the characteristic friendly smile that has helped endear him to students, faculty and parents for 31 years.</p>
Category Lead:
Category Primary Featured Story