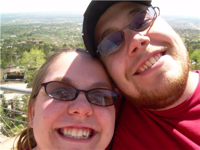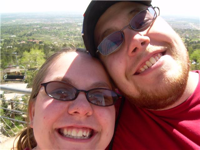 [1]Natalie Shields and Jeremy Zender will take their wedding vows on Saturday, May 22.
The Bride is from Berthoud, Colorado and is a 2008 graduate of Berthoud High School.
The groom is from Loveland, Colorado and graduated from Thompson Valley High School in 2004 and is a DADC  Graduate, Magna Cum Laude in 2008.
The ceremony will take place at the Ya-Ya Farm and Orchard in Longmont with Scott Sherman officiating. The Maid of Honor will be Tiffany Shields (sister of the bride).  Bridesmaids are Jayme Larson, Stacey Welton, Kaycee Hinrichs and Arielle Drake.
The Best Man will be Jason Moore with Shaughn Varnell, Ryan Larson and George Mondragon acting as groomsmen.
Abby and Jenna Sherman will be flower girls.
The Couple will Honeymoon in Estes Park prior to taking up residence in Wheat Ridge, Colorado.
The Bride's parents are Leonard and Cathy Shields of Wheat Ridge, Colorado.
The Groom's parents are Doug and Jackie Zender of Loveland, Colorado.