By Megan Reece Thomas
Berthoud Recorder
You know how when a guy is having lady troubles here at home, his buddies take him out for a beer? In Italy they'd take him out for a piece of tiramisu. Yes, it's a culture after my own heart; and my husband and I were lucky enough to spend our weeklong honeymoon in as Rome.
In Rome we saw tremendous pride in cuisine. Italians know that the best wine, olives, olive oil and balsamic vinegar come from Italy, but it's not like they're going to point it out – it's a given. You're best off ordering any restaurant's house wine because a) it will be delicious and b) it will probably run you less than $10 per bottle or liter, depending on what sort of place you've ended up – all because the Romans serve good wine all the time.
So I know that this isn't the best time for travel abroad, but that's okay. I can help you get the Roman eating experience right here at home. In this area we're lucky to have access to imported foods as well as high-quality more common foods that are also eaten in Rome.
First, set aside at least two hours for a Roman-style dinner. Eating is not just a necessity in Italy, it's a way of life. Put a tablecloth on your kitchen table (a small, cozy atmosphere is the most authentic). Light a couple of candles and turn off the lights.
Start your meal off with an antipasto, or appetizer. In Rome, we found that thinly sliced meats such as prosciutto, smoked ham and salami were common, as well as fresh mozzarella, olives (oil packed and not from a can), oiled and grilled eggplant, fried salted cod and fried zucchini blossoms stuffed with cheese. The antipasto should be small; a few bites will do just fine as you want to wake your appetite up, not stuff it down.
Next, go with a simple first course. In Rome, this was often a selection of a starch such as risotto or pasta. Try making a basic mushroom risotto. Or go with a thicker pasta such as fettuccine and make a homemade meat sauce. The key again is a smaller portion. Go with a salad plate and avoid piling your starch too high.
Next is the second course. In Rome this is richer fare, such as a roasted or stewed cut of meat, fish or carpaccio (raw beef pounded paper thin and served with arugula, olive oil, thinly sliced raw mushrooms and loads of Parmigiano-Reggiano cheese). Add a side of steamed spinach seasoned with loads of butter, olive oil and garlic or roasted potatoes.
In Rome, a digestive alcoholic beverage for dessert is common, as stuffing more food in at this point starts to get ridiculous. Try to find Limoncello at an import store and serve it in small cordial glasses. Grappa is another option, the liqueur from the first press of fermented grapes when making wine. As far as edible options, find an easy tiramisu recipe. Or you could always go with biscotti.
Finally, the espresso. Do not miss the perfect way to end your meal. One-shot stovetop espresso makers are available to buy from any kitchen or sporting goods store, and they're so worth it. Make it with some steamed milk (macchiato) and add a teaspoon of sugar. It wraps up the meal beautifully. Bella!
We fully enjoyed eating our way through Rome. Practice the experience in your own home for now, and I wish you tasty travels of your own to the Old Country in the future.
News Image: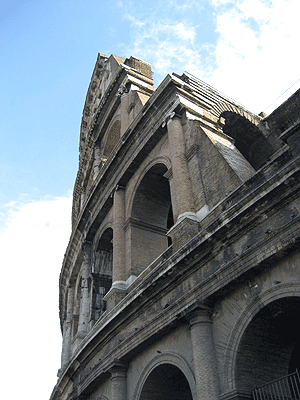 News Image: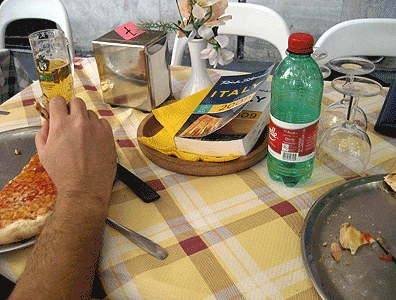 Long Description:
<p>The Colosseum was near the center of ancient Rome. This massive building was a place for the people to watch games and gladiator battles.</p>
Long Description:
<p>To eat pizza the proper Roman way, fold it in half and eat it like a sandwich.</p>
Category Lead:
Category Lead Story