By Ryan Smith
Turner Middle School
Each year the Loveland Rotary Club gives Turner Middle School a sum of money for the purpose of recognizing students for their character. Each semester at Turner several students are selected to receive the Kindness Award. Friday, May 29, 12 were honored for their kindness at an all-school assembly with a card and a $25 gift card to Centerra Shopping Center. The students were selected out of 180 nomination forms from fellow classmates and teachers.
Sixth-grade teacher Dave Hunn spoke to the student body on the importance of kindness and character before the awards were presented. Recipients' parents were present for the assembly and were invited to attend a brunch to celebrate immediately following the assembly.
This year's Kindness Award winners are:
Sixth grade: Taylor Doman, Dennis Williams, Natalie Jennison and Alexis Clark
Seventh grade: Ben Sevy, Anna Miera, Jano Beltran and Emma Fate
Eighth grade: Chloe Murray, Kelsey Angus, Catherine King and Dillon Brown
News Image: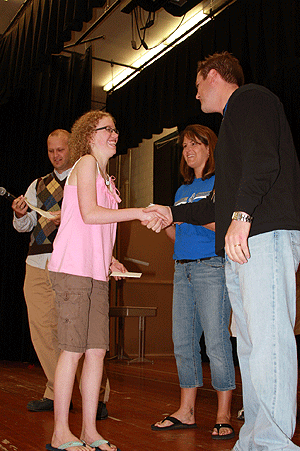 Long Description:
<p><span style="font-size: small;"><span style="font-family: arial,helvetica,sans-serif;">Turner sixth grader Natalie Jennison receives her Kindness Award. From left, School Counselor Ryan Smith, Assistant Principal Christine Smith and Principal Bill Siebers.</span></span></p>