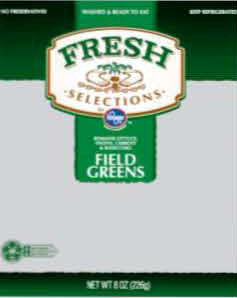 Toss That Salad…Out! Salmonella Concerns Prompt Bagged Greens Recall
A finished package of spinach tested as likely tainted with salmonella in Washington, and bagged greens-maker Taylor Farms has issued a voluntary, precautionary recall of 3,265 cases of several of their salad blends.
Taylor Farms has nine processing plants in the U.S., including three in California, and one in Mexico. They are based in Salinas, California.
The salads are sold under various brand names including Fresh Selections, HEB, Marketside and Taylor Farms.
Fresh Selections items being recalled are 10-ounce bags of Hearts Of Romaine, Leafy Romaine, Field of Greens, and Romaine Blend
Five ounce bags of Spring Mix under the HEB name are being recalled.
Marketside items being recalled are 10-ounce bags of Fresh Spinach; 14-ounce bags of Caesar Salad Kit; 15-ounce bags of Asian Salad; 15-ounce bags of Southwest Salad Kit; nine-ounce bags of Premium Romaine; 18-ounce bags of Premium Romaine Family, and eight-ounce bags of Field Greens.
The products included in the recall were distributed in Arizona, California, Colorado, Florida, Kentucky, Missouri, New Mexico, New York, North Carolina, Oregon, South Carolina, Texas, Virginia, Washington and Puerto Rico and sold in various retail supermarkets.
In addition to the Taylor Farms brand, salads included in the recall were packaged and sold under the brands Fresh Selection, HEB, and Marketside.
Per the FDA, the bagged salad products subject to the recall include:
Photos of each bagged lettuce product can be seen as part of the U.S. Food and Drug Administration's recall announcement. 
Salmonella can cause serious and sometimes fatal infections in young children, frail or elderly people, and others with weakened immune systems. Healthy people may experience fever, nausea, vomiting, diarrhea and abdominal pain.
Customers who have purchased these products are urged not to consume the products and should dispose of them. Consumers may contact Taylor Farms Retail, Inc. for further information at 1-877-323-7374.

Print This Post