This year's Berthoud Bash was a big success by any measure. The biggest measure of course is the fund raising for the Berthoud Schools which topped $100,000 this year. Congratulations to all the volunteers who make up the Berthoud Schools Fund. The funds will go to support technology in Berthoud schools. A "paddle auction" as the finale had set a goal to raise $20,000 to fund a variety of school activities that would be lost due to district lack of funding. The generosity of the crowd was evident as nearly everyone joined in.
In addition, everyone who came seemed to have a great time at the event. Plenty of time enjoy the company of people who are interested in our young people and to shop among the amazing array of silent auction items.
Buddy Kouns did his usual masterful job as Master of Ceremonies and guest speaker Major Diggs Brown, carried on the theme of Stars and Stripes. The live auction included many unusual items that you won't see any where else and Auctioneer Rick Rolph coaxed the bidders to keep raising the ante for an eclectic mixture of items. From a cake for your table to a Wall of Wine (40 bottles) to a 15 ton load of roadbase, the variety of items included something for everyone.
Even the elementary school kids got involved by making gift baskets for the silent auction. Who could pass up a "Dog Basket" or a "Chocolate Basket."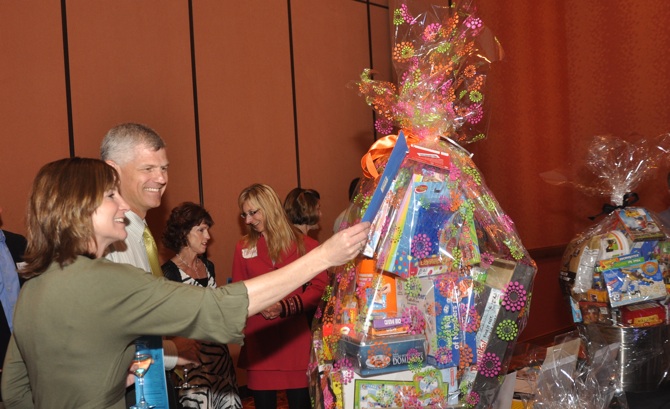 To make the silent auction browsing easier, the items were divided into catagories like 'Home and Garden," Art and Jewelry," "Sports and Hobbies" and many more. With more than 150 items to choose from the the Bash goers had plenty of activity before dinner. Of course, much of the fun is visiting with other lookers and keeping an eye on who is bidding for the item you want.
The final event is the Heads & Tails game where the entrants try to match up with the toss of  the coin by putting their hands on their heads or their tails. the winner of this years contest went home with and Apple iPad 2.
Congratulations to the Board, planning committee and all the volunteers who made the event possible.
We can look at the evening festivities in review.
[nggallery id=102]
[nggallery id=101]

Print This Post