By Michael Hicks
Berthoud Recorder
LONGMONT — It took only 54 seconds for Berthoud's girls soccer season to end in an unceremonious fashion Thursday night.
First, Berthoud booted in one to its own goal, then Longmont's Bianca Valdez scored on a penalty kick left of Lady Spartans goaltender Lydia Munoz early in the first half in the Lady Trojans' 3-0 victory at Everly-Montgomery Field.
Just over six minutes into the game, Berthoud (5-9-1) accidentally crossed a shot in front of its goal into the upper left corner of the net for a 1-0 Longmont lead. Just 54 seconds later, Valdez was tackled in the goalie box, resulting in a penalty kick. She delivered a goal left of Munoz and any chance of victory for Berthoud went by the wayside.
"We kind of gifted them a couple of goals early. Otherwise, it was pretty even," Berthoud head coach Jeff Benjamin said. "They scored a nice goal in the second half, but the girls played well. I'm happy with the way the season went. It was a lot of fun to coach this team and watched them play some really nice soccer. The win-loss record didn't go the way we wanted to, but I'm still very pleased with how the season went."
Alyssa Smith added a second-half goal for Longmont (8-6-1).
Berthoud's playoff hopes slipped away after a 2-1 loss at Mountain View two weeks ago, and for the second straight year, the Lady Spartans weren't able to lock up one of the Northern Conference's seven postseason berths for the 32-team 4A state tournament. But at least they were in the hunt, said Benjamin.
"We were able to be able to kind of pick up where we left off last year and continue with that. Like last we were in the playoff hunt until the final week. We still had a shot, which in years past we hadn't even been there. It was nice to be there," Benjamin said. "A couple of breaks one way or the other and it might've happened. You can't dwell on that. You have to come out and play each game as it happens."
Munoz made nine saves in net for Berthoud.
LONGMONT 3, BERTHOUD 0BERTHOUD 0 0 — 0
LONGMONT 2 1 — 3
SCORING SUMMARY
L — Own goal, 7th minute
L — Bianca Valdez, penalty kick, 7th minute
L — Alyssa Smith (Jessie Brown), 49th minute
SHOTS: Berthoud 1; Longmont 11
SAVES: Berthoud — Lydia Munoz 9; Longmont — Hannah Schwartz 1
CORNER KICKS: Berthoud 1; Longmont 5
FOULS: Berthoud 6; Longmont 7
YELLOW CARDS: Berthoud 0; Longmont 1
GIRLS GOLF: Fagler, Heaton break 100 at Estes Park
ESTES PARK — Kacey Fagler shot a season-low 97 and teammate Stephanie Heaton fired a 98 in the regular-season finale Thursday at Estes Park Golf Course.
Other scorers for Berthoud include Brandi Peter (100), Julia Perry (107) and Jessa Emerson (111). The Lady Spartans finished third among Northern Conference schools behind Skyline and Broomfield.
"The girls played real well," Berthoud girls golf coach Mike King said.
The match closed out the regular season. Berthoud played in the 4A Northern Regional at the Olde Course at Loveland on Wednesday.
News Image: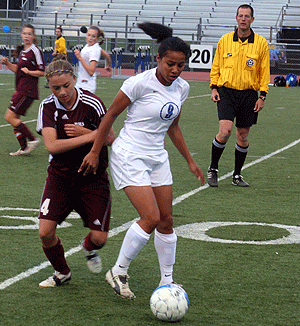 Long Description:
<p>Berthoud&rsquo;s Lexie Yates (4) and Longmont&rsquo;s Sierra Arndt battle for control of the ball in the Lady Spartans&rsquo; season finale Thursday.</p>

Print This Post