The style of historical Colorado women comes alive for the "Change of Seasons, Change of Clothes" doll exhibition at the McCarty-Fickel house on June 10 at 7 p. m.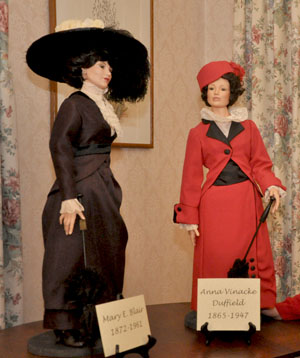 As the seasons change, so did the elaborate outfits of Colorado's notable ladies. Petticoats, hats, and exquisitely intricate dresses were part of the daily costume of women from all walks of life in the 19th and early 20th centuries, and the local ladies kept up with the looks of the time. As summer weather grew warmer, women exchanged heavier winter wear for lighter, more colorful gowns and day wear.
In conjunction with the Ladies of Loveland, the Berthoud Historical Society and the McCarty-Fickle House will take a sartorial journey through time as beautiful, collectible dolls are styled to represent the finest fashions seen on these women from different eras in Colorado history.
Representing notable women from Northern Colorado's past, the dolls are dressed in the finest hand-stitched outfits by Fran Robison of Loveland. Taking inspiration from women such as settler Margaret Osborn, or Anna Duffield, the first public librarian in the Loveland area, the dolls represent fashions from the 1860s to the 1920s. For "Change of Seasons, Change of Clothing," Robinson will be updating the dolls' dress to cool summer looks, including historically accurate undergarments, doll-sized hoop skirts, hats, and accessories. All the clothing is custom-designed for each doll and captures the intricate detailing of each era.
The event is free to attend, and wonderful, summery refreshments will help capture the spirit of a society event that might have taken place in the Front Range's past.
A continuation of the popular doll exhibitions in the McCarty-Fickel Home, this debut of Robison's hand-crafted summer fashions provides a lovely and educational glimpse into Colorado history for all attendees who want to experience the beauty of Colorado couture from the past. The exhibit will run at the McCarty-Fickel Home throughout the year.
For more information, please contact: Teri Johnson, Director
mfh@berthoudhistoricalsociety.org
McCarty-Fickel Home
645 7th St., Berthoud, CO
970-532-1916
Follow us on twitter for great event news: http://twitter.com/BerthoudHistSoc

Print This Post