Working Families Mid-Session Report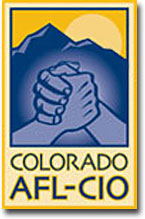 Mike Cerbo
Executive Director
Colorado AFL-CIO
Midway through 120 days of the 2012 legislative session of the Colorado General Assembly the Colorado AFL-CIO wanted to provide an overview of the accomplishments and disappointments with legislation pertaining to jobs and the economy.
The good news: the economy is starting to improve. The bad news: opponents of working families are not helping and often actively trying to kill legislation that will create jobs.
The most important part of the job creation effort this year is Senate Bill 1, the Hire Colorado Act. This bill adds a small preference in state contracts for bids from companies that employee Colorado workers. The bill has successfully passed its first committee test in the Senate, and awaits action in the full Senate and the House. A similar bill, HB 1113 sponsored by Rep. Pete Lee was already killed in the House by the GOP majority. Senate Bill 1 link here:
http://www.leg.state.co.us/clics/clics2012a/csl.nsf/fsbillcont3/55F729127CC5A00087257981007F187E?Open&file=001_01.pdf
Another bill we're closely following, Senate Bill 3, the Employment Opportunity Act, would help Colorado job seekers by restricting the use of credit reports in job applicant screening unless it's relevant to the job. Many Coloradans have faced unexpected financial problems through no fault of their own due to the recession, and we need to get them back
on the job–not denied opportunity by unfair policies. It passed the Senate on a party line vote with not a single Republican supporting it. Unfortunately, we expect Speaker McNulty to stand against working families and kill this bill in the House in the next few weeks. Senate Bill 3 link here:
http://www.leg.state.co.us/clics/clics2012a/csl.nsf/fsbillcont3/8D79274CA03CF03A87257981007E0C6C?open&file=003_ren.pdf
Meanwhile, anti-worker legislators have killed several job creation bills for no other reason than partisan politics. House Republicans voted down House Bill 1296, the Income Protection Act, which would have made it a crime to falsely deny workers' wages owed to them, or to fail to pay wages owed when an employer has the ability to do so. They also killed a bill that would have prohibited employers from saying unemployed people need not apply in job postings, which is unthinkable in an economy when many so people have been laid off. And at the same time they're killing jobs bills, these same legislators are wasting precious time on issues that don't impact working families. House Republicans in particular have stymied meaningful legislation and are playing partisan politics with our future because it is an election year. So far they have killed The Veterans Jobs Act, The Adult Literacy Act and they killed a bill to strengthen regional tourism, and to prohibit unemployment discrimination.
We think the focus should be on putting Coloradans back to work – and that's what we'll be doing for the rest of the session.

Print This Post