By Sandy Barnes
Berthoud Recorder
There's no need to wait until Thanksgiving to enjoy the delicious flavor of pumpkin. From pie and bread to soup, pumpkin can star in low-fat recipes that not only taste good but also provide essential nutrients, including vitamin A.
Here are three recipes to try. Happy eating!
Pumpkin Bread
Ingredients:
1 ½ cups whole-wheat pastry flour
1 ¼ tsp. baking soda
1/2 tsp. salt
1 tsp. cinnamon
½ tsp. nutmeg
1 cup pumpkin puree
½ cup honey
½ cup buttermilk, preferably organic*
1 egg
2 tablespoons olive oil
Combine dry ingredients and then mix in rest until well blended. Pour batter into greased loaf pan and bake at 350 degrees for one hour or until done.
* You can also use regular milk to which 1 tsp lemon juice is added
Pumpkin Soup
Ingredients:
1 small onion, chopped
2 tablespoons vegan margarine
2 cups vegetable broth
1 14 oz. can coconut milk
1 15 oz. can pumpkin puree
½ tsp. cumin
½ tsp curry
1 tsp. honey
Dash salt
Saute onion in margarine about 3-5 minutes until tender. Add remaining ingredients and simmer about 15 minutes.
Pumpkin Yogurt Pie
Ingredients:
3 beaten eggs
2 cups pumpkin puree
1 ½ cups plain organic yogurt
¾ cup maple syrup
1 tsp. vanilla extract
1 ¼ tsp. pumpkin pie spice
Pinch salt
One pie crust
Mix ingredients in large bowl until well blended. Pour into prepared pie crust and bake at 425 degrees for 15 minutes. Reduce heat to 350 degrees and continue baking pie about one hour or until filling is set.
News Image: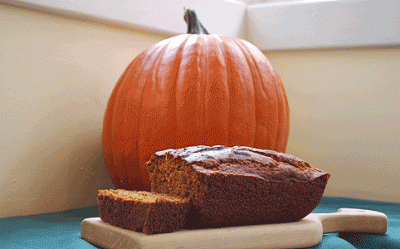 Long Description:
<p><span style="font-size: small;"><span style="font-family: arial,helvetica,sans-serif;">Pumpkin bread can add spice to chilly fall evenings.</span></span></p>
Category Lead:
Category Secondary Featured Story

Print This Post