Every Cookie Has a Mission: To Help Girls Do Great Things
Girl Scout Cookie time starts Friday, Jan. 7. Not only can a box of Girl Scout Cookies satisfy your sweet tooth, but every Girl Scout Cookie purchase helps Girl Scouts in Colorado do great things.
When Girl Scouts participate in the annual cookie sale, they are part of the largest girl-led business in the country that generates more than $700 million for girls in communities nationwide. In fact, last year in Colorado, girls participating in Girl Scouts earned $2.2 million for their activities, such as service projects or exciting trips. The Girl Scout Cookie Program is also an important ingredient for leadership development and helps girls develop five key skills: goal-setting, decision-making, money management, people skills and business ethics. Many Girl Scout alumnae credit programs like the cookie sale as the place they learned their early business skills.
Across the state, Girl Scout Cookies will be for sale from Friday, Jan. 7, to Sunday, March 13. Booth Sales at retail locations run from Friday, Feb. 18, to Sunday, March 13. Girl Scout Cookies cost $3.50 per box, and all money raised supports girls in Girl Scouts of Colorado, with a portion of the money going directly to the girls participating in Girl Scouts.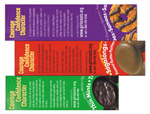 The eight Girl Scout Cookie varieties are Do-Si-Dos, Dulce de Leche, Lemon Chalet Cremes, Samoas, Tagalongs, Thank U Berry Munch, Thin Mints and Trefoils. All Girl Scout Cookie varieties contain zero grams of trans fat per serving and the Trefoils, Do-Si-Dos, Lemon Chalet Cremes, Thank U Berry Munch and Dulce de Leche have no hydrogenated oils.
Making the world a better place is central to the Girl Scout mission. During the cookie sale, Girl Scouts honor the non-profit organizations, food banks, military and uniformed personnel who are so important to our community through Girl Scouts' Gift of Caring/Hometown Heroes program. Through this program, customers have the opportunity to purchase a box of cookies to donate to Girl Scouts' heroes – a perfect solution for those who pass on the tempting treats! Girls learn about the invaluable work of their recipients by taking tours, learning about careers in public service and helping with community service projects. All Gift of Caring/Hometown Heroes purchases are tax deductible. Last year's statewide program netted 120,000 boxes for hundreds of community organizations.
For more information on ordering Girl Scout Cookies, text "Cookies" to 48696, visit our Facebook (Girl Scouts of Colorado) or Twitter (GSColo) pages, go to girlscoutsofcolorado.org, email inquiry@gscolorado.org or call 1-877-404-5708.
Girl Scouting builds girls of courage, confidence and character who make the world a better place. Girl Scouts of Colorado makes it easy, meaningful and fun for girls and volunteers to grow as leaders. We provide a safe place for girls to explore their world – from science, technology and the environment to healthy living, anti-bullying and financial literacy. For nearly 100 years, Girl Scouting has been helping each girl develop her personal leadership skills and make friends that last a lifetime

Print This Post