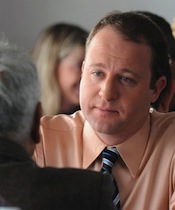 Please join neighborhood hosts
Rich Ball, Mark & Joan Shaffer,
Sally & Mike Buonpane and Ann Harroun
For a Summer Kick-off Party with Congressman Polis
Friday, May 25
5:00-7:30pm
1801 N. Garfield Avenue, Loveland, Colorado
Free and open to the public–Food and Drink will be provided
Congressman Polis will give an update on what is happening in Washington DC and what he is working on in D.C your behalf. Then there will be plenty of time for him to take and answer your questions on issues that matter most to you. Kick-off the summer with Congressman Polis!
RSVP is recommended please visit www.polisforcongress.com/events
Paid for by Friends of Jared Polis

Print This Post