By Laurie Hindman
Berthoud Recorder
Fresh, toasted subs made to order, pizza with toppings of your choice, yummy soups, healthy salads and best yet — it's fast and inexpensive. Subway, on the corner of Mountain Avenue and Third Street, offers 6-inch and 12-inch subs, cold or hot, piled with the ingredients you like, seven days a week. For a late dinner, it's often the only place in town still open.

Kyle Forbes has worked at the Berthoud Subway for 13 years and has managed and owned it for the last three. He says that even on the busiest day they try to get people through the line quickly. "Our goal is five minutes or less," said Forbes, "so you are not wasting half your lunch hour waiting for food."

Forbes said Subway offers healthy alternatives to the traditional fast foods. No longer just offering processed meats on white bread, over the last five years Subway has morphed with the times and now has six varieties of bread, including Italian herbs and cheese, whole wheat, Italian white, parmesan oregano, honey oat and flatbread, and loads of fresh veggies such as olives, four different peppers, spinach, onions, tomatoes, onions and lettuce. Meats now include meatballs, steak and real roasted chicken breast, which is tasty and low in fat. Several menu items have 6 grams of fat or less and most of their sauces and condiments are either low-fat or fat-free.

"Even our cookies are trans-fat free," said Forbes. "Subway removed the hydrogenated oils several years ago." Breads and cookies are baked fresh on the premises every day.

Less known is that Subway also has breakfast. Egg and cheese sandwiches sell for a mere $2.49. For a few cents more you can add bacon, ham, sausage and even steak. Hash browns are only 99¢ and you can get a hot gooey cinnamon roll for just $2.49.

Subway's best meal deal currently is the eight types of foot-long subs, including spicy Italian, meatball, oven roasted chicken, BLT and black forest ham, each for just $5. They are also promoting a new sandwich; the "Tuscan Chicken": roasted chicken breast with melted cheese and olive vinaigrette with just 9 grams of fat.

On hot summer days there is no better place to go to cool off. Subway is home to TCBY where you can indulge in yummy frozen yogurt in a variety of flavors from plain vanilla or chocolate to rocky road or cotton candy. TCBY offers sundaes, "shivers," shakes and now "chillers" — frozen coffee drinks such as "Cocoa Berry Java." The frozen yogurt not only contains less fat than ice cream, it has seven active probiotics — the good bacteria that is healthy for the digestive and immune systems.

In addition to serving breakfast, lunch and dinner (and dessert) Subway provides catering. Order subs by the foot, starting at three feet, as well as platters of cookies or ice cream cakes and pies.

Subway is open from 8 a.m. to 10 p.m. Monday through Sunday and can be reached at (970) 532-9818.
Category:
News – Business
News Image: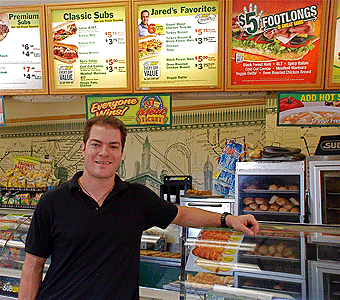 Long Description:
<p>Subway manager and owner Kyle Forbes has been working at this location for 13 years. Subway is offering eight types of foot-long subs for just $5.</p>
Category Lead:
Category Secondary Featured Story

Print This Post