By Shari Phiel
Berthoud Recorder
Self-described as "a bunch of wild-eyed rascally hooligans who love to dance and cavort in public, to the sound of accordion, fife, and clashing sticks," the Breathless in Berthoud Border Morris dancers delighted audiences at Berthoud Day with their colorful costumes and exuberance.
Morris dancing dates back to the Middle Ages in England and is a performance dance, rather than social dance. Both men and women participated and would dress in ribbons and bells, clash sticks while dancing, wave handkerchiefs all to the sounds of the tabor, pipe, fiddle and accordion.
Border dancing is a style of Morris dancing originating from the border lands betweens England and Wales. The performances are, according to the group's Web site, "boisterous and energetic, primarily stick dances, emphasizing a thrilling performance rather than subtlety or refinement."
Many of the group's members also dance with the Maroon Bells Morris Dancers and perform at various locations across the Front Range, including Fort Collins, Boulder and Denver.
Anyone interested in performing with Breathless in Berthoud should visit their Web site at www.breathlessbordermorris.org. The group is also available for hire.
News Image: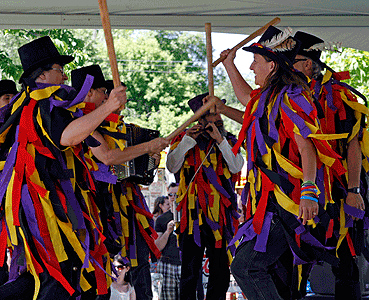 Long Description:
<p>The Breathless in Berthoud Morris Border Dancers entertain audiences in the park on Berthoud Day. Morris dancing dates back to the Middle Ages and is a loud, boisterous and fun celebration for all.</p>
Category Lead:
Category Primary Featured Story

Print This Post