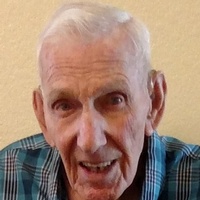 May 07, 1927 – July 25, 2018
Ray Douglas "aka Donkey" (there's a story there) Dudley was born on May 7, 1927 in Ina, Illinois, to Clyde E. & Bertha Davis Dudley. He went to his heavenly home on July 25, 2018 at the age of 91.
He met his future wife while picking up milk at her father's dairy farm. On September 18, 1949 he married Dorothy Dixon at her parent's home in Montgomery County Missouri.
After they married, he worked at Hoffman's IGA Grocery Store in Montgomery City, Missouri. They built a home and had three children.
In November of 1958 he moved his family to Dillon, Colorado where he opened the Center Grocery. When the town of Dillon was relocated, they moved to Frisco where he opened Dudley's AG Market. In 1969 he sold that store and went to work on the Eisenhower Tunnel project.
Missing his grocery business, they moved to Berthoud in 1974 where he bought Straightway Market. In 1984 the store was sold and he retired. In his retirement, he and Dorothy enjoyed his passion for travel, making several trips to Alaska and Canada. In 1996 they traveled with their daughter Donna and her family to New Zealand and Australia for the trip of a lifetime. They also managed to visit a large number of states.
Ray was very active in the Baptist church, being ordained as a deacon in the 1960s. Over the years he served on various committees and offices in his church. In his later years, he could be found in his recliner reading his Bible.
Ray is survived by his of wife nearly 69 years, daughters Karen Sluder (Rick) of Murfreesboro, Tennessee and Donna Rosemann (Rick) of Johnstown, Colorado.
Grandchildren Mike Dudley, Amanda Thompson (Charles), Tracey Waddell (Don), Jessica Austin, Kevin Rosemann (Kali) and Cassie Malone (Sean).
Great-grandchildren Dustyn Dudley, Alexis Bartholomew (Tim), Devin Uitermark, Charlie Thompson, Dylan & Cody Waddell, Trenten Austin, Neala Ward and Ty & Cole Allshouse.
His sister Alice Parker of Iowa and numerous nieces and nephews.
He was preceded in death by his parents, brothers Leonard, Bud, Dave, Ted and Robert and sisters Sue, Dolly and Rosie, son Steve Dudley and grandson Keith Rosemann.
In lieu of flowers the family asks for memorial contributions to be made to Pathways Hospice through Kibbey-Fishburn Funeral Home, Loveland, CO.
SERVICES
Funeral Service
Monday, July 30, 2018
10:00 AM – 11:00 AM
Kibbey-Fishburn Funeral Home & Crematory
1102 N. Lincoln Avenue
Loveland, Colorado 80537

Print This Post