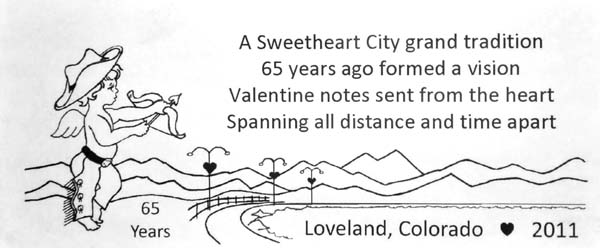 2011 Official Loveland Valentine Cachet
By Sharlynn Wamsley
The 2011 Official Loveland Valentine Card and Cachet were unveiled by the Loveland Chamber of Commerce president, Brian Willms on 5 Jan. at a gathering to introduce the winning contributors and their work – the words and art for this year's Loveland Valentine.
Local Loveland artists include Brenda Crow who designed the card, using the Mariana Butte – one of her favorite views – to make the tie to Loveland. Diane Roeder, the cachet design winner used the traditional cupid (in his western hat and chaps) sending his arrow over Lake Loveland toward the mountains.  She also included the hearts placed along Hwy. 34 by the Rotary Club. Theresa Morgan was the cachet verse winner, lauding the 65th years that the mailing program has been in place. Barbara Dubrovin was the card verse winner with the sentiment, "From the Sweetheart City with beauty and love, And flowers surrounded and blue skies above, Come Valentine wishes sweet as a rose, With hopes that your joy and happiness grows."
The 50th Miss Loveland Valentine to represent the Sweetheart City was also introduced. Jamie Felton, a senior, was chosen from nine students – three from each high school – who had been recommended by their teachers for their high academics and personal skills. Jamie Felton will serve as the spokesperson for 'the Sweetheart City,' Loveland, Colorado.
Loveland has the Nation's Largest Valentine Re-Mailing Program, and 2011 marks its 65th yea, and will begin on Wednesday, Feb. 2 at 9 a.m. More than 60 volunteers will come to the Loveland Chamber of Commerce to hand-stamp each valentine card sent to the 'Sweetheart City." Over 160,000 cards are hand stamped with the cachet and re-mailed between Feb. 2 and Feb. 14. People worldwide might be a recipient of the Loveland Valentine.
To take part in this program and have your valentine's card stamped with the unique Loveland cancellation and 2011 valentine cachet, enclose your valentine (in its pre-addressed envelope affixed with the proper postage) in a larger 1st Class envelope and
Mail to:
Postmaster – Attention Valentines
446 E. 29th St.
Loveland, CO 80538-9998
All the valentines will be removed from the larger envelope at the Post Office.
To ensure delivery by Valentine's Day, U.S. destined mail must be received in Loveland by Feb. 9, Feb. 11 if sending within Colorado and foreign mail must be received by Feb. 4, all with the proper postage affixed.
The Official Loveland, Colo. Valentine is now on sale at several retailers, including King Soopers, Safeway, Wal-mart and Walgreens.
Photos by Sharlynn Wamsley

Print This Post