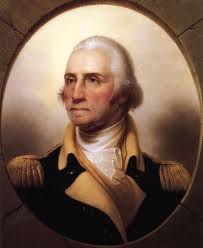 First U.S. President George Washington dies
On this day in 1799, George Washington, the man described by fellow soldier and Virginian Henry Lee as "first in war, first in peace and first in the hearts of his countrymen" dies at his Mount Vernon estate in Virginia.
Born in Westmoreland County, Virginia, the second son from the second marriage of a colonial plantation owner, Washington rose to eminence on his own merit. His first job at age 17 was as a surveyor in the Shenandoah Valley. In 1752, he joined the British army and served as a lieutenant in the French and Indian War. When the war ended, Washington left the army and returned home to Virginia to manage Mount Vernon, the plantation he had recently inherited upon the death of his older brother. He married a wealthy widow, Martha Dandridge Custis, in 1759. Although the couple had no children, Washington adopted Martha's son and daughter from her previous marriage. While in Virginia, Washington served in the colonial House of Burgesses and, like many of his compatriots, grew increasingly frustrated with colonial rule by the British government. He soon joined his co-revolutionaries in the Continental Congress.
In 1775, the Continental Congress unanimously chose Washington to command the new Continental Army. Part of his success in the Revolutionary War was due to his shrewd use of what was then considered the "ungentlemanly," but effective, tactic of "guerrilla" warfare, in which stealthy "hit-and-run" attacks foiled British armies used to close-formation battle-line warfare. Although Washington led almost as many losing battles as he won, his successes at Trenton, Princeton and Yorktown proved pivotal for the Continental Army and the emerging nation. In 1789, largely because of the leadership he displayed during the war, Washington was elected the first American president under the new U.S Constitution.
An unenthusiastic political leader, Washington nevertheless recognized his unique and important role in keeping the fledgling nation together. He worked hard to reconcile competing factions within his administration and was keenly aware of setting unwritten rules of conduct for future presidents. Washington resigned in 1797 after two terms. Not only was he growing old and disillusioned with vicious partisan politics, he did not want to appear monarchical and preferred to set a precedent of transferring power peacefully.
Washington's granddaughter remembered him as "a prisoner of his own celebrity." Abigail Adams described Washington as having "a dignity which forbids familiarity mixed with an easy affability which creates love and reverence." John Adams, who was Washington's vice president and fellow founding father, knew intimately of Washington's stubborn streak and once referred to his boss as "Old Muttonhead."
Washington's stubbornness and concern for protocol proved his undoing.
On December 12, 1799, he rode out into the freezing sleet to survey business affairs on his estate. He returned home late for a dinner engagement and refused to take the time to change out of his wet clothes. On December 13, he developed a severe respiratory infection and died the following day. His last words were "'Tis well."
The nation plunged into a state of mourning and Washington was eulogized by friends and political foes alike, both at home and abroad. (King George III of England once grudgingly called Washington the "greatest character of the age.") In his will, Washington referred to himself simply as "George Washington, of Mount Vernon, a citizen of the United States."
For more About the first president, click on his picture above.

Print This Post