Truman declares war with Germany officially over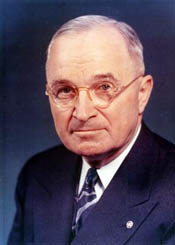 On this day in 1951, President Harry Truman finally proclaims that the nation's war with Germany, begun in 1941, is officially over. Fighting had ended in the spring of 1945.
Most Americans assumed that the war with Germany had ended with the cessation of hostilities six years earlier. In fact, a treaty with Germany had not been signed. Complicating the treaty process was the status of territory within what was formerly the German state. Following the Second World War, the major Western powers (U.S., Britain and France) and the Soviets agreed to divide the country, including the capital city of Berlin, into democratic and communist-controlled sectors. Both East and West Berlin ended up within the Soviet-controlled territory of East Germany and the capital became the epicenter of increasing tensions between the West and Soviet Russia. Each side claimed the other had violated post-war treaties regarding their respective spheres of influence in post-war Europe. The conflict over Berlin came to a head in June 1948 when Stalin ordered a blockade of the city. Truman did not want to abandon Berlin to the Soviets and ordered an airlift to supply the western sectors with food and fuel. The treaty process was put on hold until the Western powers could agree on what to do about Berlin. A Soviet atomic weapons test on October 3, 1951, increased the tension.
In his proclamation on this day, Truman stated that it had always been America's hope to create a treaty of peace with the government of a united and free Germany, but that Soviet policy had "made it impossible." The official end to the war came 10 years and two months after Congress had declared open war with Nazi Germany on December 11, 1941.
This commentary and other events of the day are available on History.com.
More information on the Harry Truman is available at The White House.gov and Millercenter.org at the University of Virginia

Print This Post